QIQIHAR, Northeast China -- China's 11th Winter Games, which concluded here Sunday night, witnessed not only the glory of some world class athletes, but also the striking performances of many new faces.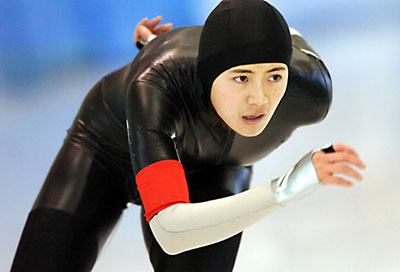 Wang Beixing, speed skating world champion, competes in the women's 1,000 meters of the short-distance all-round speed skating, in Qiqihar of Northeast China's Heilongjiang Province, Jan. 28, 2008. Wang scooped five gold medals at the 11th National Winter Games. [Xinhua]

The 11-day Games, with more than 1,000 athletes competing for 92 gold medals, were dominated by veterans, but many youngsters, particular those born in 1990s, showed great qualities and accumulated experiences through the events.
In figure skating, national champion Liu Yan swept all the three golds for women's events, yet she could feel pressure from young skaters. "They are really good skaters, and the mounting competition would for sure further improve China's figure skating overall," Liu said in an interview.
Yao Bin, head coach of the national figure skating team, said he was surprised by young skaters. "Just a couple of years ago, there were only a few women skaters could jump five triples in their routines. But now, the techniques are no longer constraints for Chinese figure skaters."
Geng Bingwa, a 12-year-old skater and the country's youngest that managed five triples, finished fifth in the women's free skating event. However, the result could be much better if the girl didn't fall on those "simple elements".
"She is still young and lacks of experience in a major competition like this," said Geng's coach Zhu Guifang. "But she is really talented and hard-working, otherwise she wouldn't be able to manage five triples in only three months."
What Chinese figure skaters desired at present were probably not techniques, but artistic performing skills. They were often criticized in international competitions to have weak artistic performance. Therefore the figure skating competition had brought in demonstration events.
Short-track speed skating competitions produced no surprise. Olympic champion Wang Meng and Asian Winter Games bronze medalist Li Ye both captured seven gold medals out of eight for women and men, respectively. They both could have swept all the golds if they didn't fall by mistakes.
They are going to Canada to compete in the World Cup fifth leg slated for February 1-3.
Training abroad also benefited some of the skaters. Wang Beixing, speed skating world champion, who had spent four years in Canada, won all the five events she competed in at the Winter Games.
She said the overseas training helped her to improve her skill, and she is now preparing for the Vancouver Winter Olympics.
The Harbin's men's curling team will also benefit from overseas training. They will soon leave for Canada, the curling giant, to prepare for their first appearance in World Championships in April.
The Harbin women's team also retained the curling gold with unbeaten record. They will represent China to take part in the women's World Championships in Canada this March. "We hope to finish in the top eight so that we could get more points for the Winter Olympics," said the coach Tan Weidong.
In snow events, five people, including Cheng Shuang, Zhang Chengye and Liu Xianying, took three gold medals each.
The Winter Games could be called a "full success" if there were not many unexpected accidents.
Yabuli, where the snow events were held and the host of the Winter Universiade in 2009, had seen several accidents in addition to the water and accommodation shortages.
Hou Shuangmei, a female broadcaster for the ski jumping event, fell off a cable car on January 23 from about five meters high, and broke one part of her lumbar vertebra and suffered severe fractures in thighbone and anklebones.
Several reporters also fell off on the same day but slightly injured. The "cable car accidents" suddenly become a hot issue.
Officials imputed the accident to improper operation by passengers, saying that Hou didn't take the cable car at a safe location in the cable stop. However, a reporter from the site said he didn't see any instructive boards or manuals at the stop.
Xiao Tian, the deputy director of the General Administration of Sport of China, urged to improve preparation work for the upcoming Winter Universiade and next Chinese Winter Games in Jinlin province.
"We should take such competition as a leverage to bring more people into the Winter Games," he said.