It all started with several young journalists at The Olympian searching for an enticing lead for a cover story about how China intends to relax controls on foreign newspapers and magazines at the Olympic venues this summer.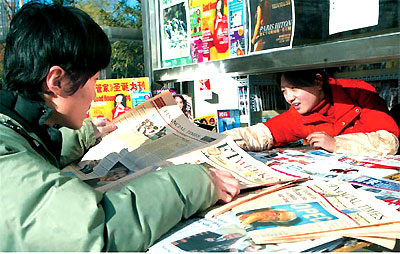 A student at the University of International Business and Economics picks up a second-hand copy of Financial Times on campus on December 11, 2007. [China Daily]
After digging out the most unusual, unique and important findings from their research, they settled on the following lead-in:
"Visitors to the Beijing Games may be able to buy Playboy and a raft of other limited publications as China mulls relaxing its controls for the Summer Olympics in line with international practice.
"All pornographic material is prohibited on the mainland but a temporary exception could be made for the Games, said the biggest importer of foreign publications in the country"
They then quoted a senior executive with a firm that imports international publications as saying: "Chinese law forbids Playboy and we should obey this, but we can't rule out the possibility that it might make its debut. There might be a demand for it (from athletes or visitors) during the Games."
I also liked how they began the story. The idea was reasonable and interesting to English-speaking or foreign readers, the newspaper's target audience.

What I didn't expect was that the story would soon create a buzz on the Internet and trigger a feverish debate among Chinese readers over whether the country should lift its de facto ban on Playboy and other sexually explicit materials, if only for a few weeks.
According to Chinese news accounts that traced the event, after The Olympian reported in December the possible temporary liberalization of controls, some foreign media picked up the story and posted a Chinese translation of their reports on the Internet.

Soon word spread across domestic websites and the blogosphere with headlines like "Playboy to be allowed on sale during the Olympics".
Although several influential domestic Chinese newspapers have since reported that they could not get official confirmation of the executive's remark --I presume no one would announce such a decision under the circumstances, even if there were one -- netizens' interest has not been dampened, as evidenced by hundreds of thousands of Internet listings on the news stories and discussions that the report has generated on local search engine baidu.com.
Supporters of liberalization believe in individual autonomy and pluralism as well as reasonable controls that protect the sensibilities of non-consenting adults and children.

But opponents think Playboy and other sexual content should be banned to prevent violations of traditional norms and avoid harming children.

Some raise the issue of "national dignity" for improvising such a temporary measure for an assumed foreign demand.
A local culture guru has joined the debate by warning about a moralistic tendency, or concern for a puritanical moral code, in the arguments for societal censorship. However, he also acknowledges that "the Chinese public is not fully ready for Playboy" as it still needs to strike what he calls "a reconciliation point" between tradition and opening up to the outside world.
The controversy might have illustrated the complexities and challenges when a different culture tries to accommodate a set of institutions and ethics that are inherently Western.

As China "harmonizes" the differences between East and West, people may be disappointed if they stake too much on their hopes that Beijing's hosting of an Olympics will mark a blanket Chinese acceptance of Western values and capitalism.
The ethical 'meeting of minds' on the issue continues. We could well only learn who triumphs when the Games opens in several months.
So what happened to those China Daily staff who ventured into this taboo area? They didn't get fired or even scolded for touching off the controversy. Instead, we all agreed it was a story worthy of further investigation.
Email: guwen_2008@hotmail.com