SHENYANG: With the Olympics now less than 200 days away, authorities in this co-host city are confident they will meet their environmental commitments.
Shenyang, capital of Liaoning Province, will provide the setting for 12 Olympic soccer matches.
"This is very important for Shenyang as we can make use of this opportunity to show case our new, environmentally friendly city," Zeng Wei, the city's Party secretary, said.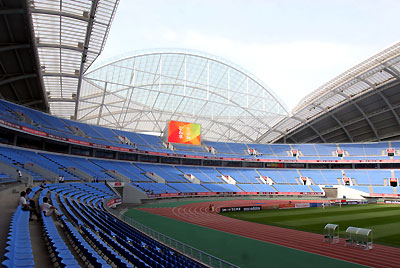 The view from inside the Shenyang Olympic Stadium at Wulihe, which will host 12 football matches during the Olympics. [Agencies]

Sources from the local government said the Shenyang Olympic Stadium at Wulihe, conforms fully to the "Green Olympics" philosophy in all aspects of its design, construction and operation.
The local sports administration bureau ordered all companies involved in its development to use only environmentally friendly, green-certified products.
A worker surnamed Li from the sports bureau said: "All the items that will be used during the Games, from business cards to gift wrapping paper and disposable paper cups, are biodegradable and ecologically friendly."
The stadium is even fitted with a water treatment system, which will make use of wastewater from swimming pools and bathrooms for cleaning, irrigation, flushing toilets and washing cars, Li said.
The local government's campaign to deal with pollution and improve the environment ahead of the Games dates back to 2001.
Li Chao, head of the Shenyang environmental protection bureau, said that as a former base for heavy industry, Shenyang has had a long-standing battle with pollution.
But over the past seven years, the local authorities have invested 78.8 billion yuan ($10.9 billion) in 460 key projects to clean up the city, he said.
All heavy-polluting factories have been either closed down or relocated, and an effective and environmentally friendly central heating system has been set up to replace small boilers, Li said.
More than 1,000 smoke chimneys have also been demolished, he said.
Liu Qiang, a retiree from Shenyang, said he was happy to be living in the new, clean city.
"I may not get the chance to go inside the stadium and watch the Olympics, but I know Shenyang is the cleanest it has ever been, and I can enjoy the environment," he said.
"And I hope it gets even better in the future."