Empty tables at city's first no-smoking restaurant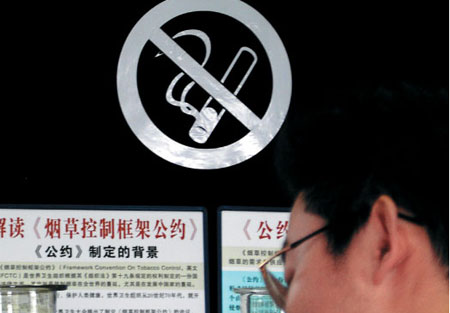 A bypasser reads the Framework Convention on Tobacco Control in an exhibition in Yichang, Hubei Province. [China Daily]

Anti-tobacco campaigners in Beijing are lobbying for an 80 percent carpet ban on public smoking less than seven months before the city hosts a "smoke-free" Olympics.
Groundbreaking measures have been introduced in recent months to clean the public's lungs and make sure this summer's Games leave a positive legacy behind after the city introduces a similar law to the one implemented in Paris on January 2 of this year.

That law, a carpet ban on smoking in restaurants, cafes and pubs, is one of a series of global tobacco control campaigns in recent years. Ireland, Norway, Italy and Sweden put a like-minded law into action in 2004 and 2005, while the UK fellowed suit last year. Hong Kong, which will host the equestrian events this summer, also issued a wide-ranging ban on public smoking on January 1 last year.
"A similar campaign is happening in China," said Dr. Cris Tunon, senior program manager with the Chinese office of the World Health Organization (WHO). "There's a growing awareness of the need to control tobacco. There is a political commitment in some sectors of the government."
The new rules in Beijing are expected to be announced in February pending government approval, public health officials and lawmakers told China Daily last week. This would be the first time in more than a decade that Beijing has moved to broaden its measures prohibiting smoking in public places.
The so-called Olympic ban will include all workplaces and restaurants throughout the city. Government officials said it would come into effect before the Games but they refused to specify a date. At the Sydney Olympics in 2000, a smoking ban went into effect six months ahead of the Games' opening ceremony.

"This time, the rules against smoking will be comprehensive," said Rao Yingsheng, a senior official with the Beijing Patriotism and Hygiene Movement Commission, which is overseeing the campaign.
With a pack of cigarettes going for as little as 4 yuan ($50 cents) in China, the country has a tobacco market worth 500 billion yuan courtesy of its 350 million-plus smokers.
About 460 million Chinese are believed to be passive smokers and over one million people here die every year from smoking-related health problems. The cost to the state in terms of healthcare and lost human resources is immense.
In Beijing alone, one in five people over the age of 15 now regularly smoke.
"Because of the low level of awareness (of how hazardous smoking can be), it will come as much more of a shock to the public," said Anne Jones, chief executive of Sydney-based Action on Smoking and Health. Jones has been working extensively with Beijing on tobacco control measures.