PARIS - South African Paralympic champion Oscar Pistorius has been told he cannot compete in the Beijing Olympics because the artificial legs he uses give him an unfair advantage.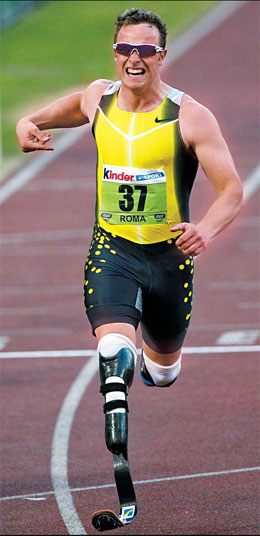 South Africa's Oscar Pistorius competes in the men's 400m race during the Athletics IAAF Golden Gala in Rome's Olympic Stadium on July 13, 2007. [Agencies] 
 The decision to ban the 21-year-old sprinter from all competitions involving able-bodied athletes was announced by the sport's governing body, the International Association of Athletics Federations (IAAF) yesterday.
Pistorius, who as an 11-month-old baby, had both of his legs amputated below the knee because he was born without fibulas, runs on specially adapted carbon-fiber blades that have seen him win Paralympic titles and challenge the times set by top-level able-bodied athletes.
But a scientific investigation into his springy prosthetics carried out by the Institute of Biomechanics at Cologne University last November found that they gave him a clear competitive edge over such athletes.
The results of these tests were handed over to IAAF president Lamine Diack last week and he asked his executive council to make a ruling.
A statement from the IAAF said that the Cologne tests had involved comparing the running efforts of Pistorius against those of five able-bodied athletes who are capable of similar levels of performance at 400m.
"Pistorius was able to run with his prosthetic blades at the same speed as the able-bodied sprinters with about 25 percent less energy expenditure," the IAAF statement said.
"As soon as a given speed is reached, running with the prosthetics needs less additional energy than running with natural limbs.
"The IAAF Council has been able to review the full report and has decided that the prosthetic blades known as "cheetahs" should be considered as technical aids in clear contravention of IAAF Rule 144.2.
"As a result, Oscar Pistorius is not eligible to compete in competitions organized under IAAF Rules."
Pistorius, dubbed by the press as the "Blade Runner", has already taken part in major IAAF-sanctioned events such as last July's Golden League meeting in Rome, finishing second. Two days later he finished last in wet conditions in Sheffield, Britain, and was then disqualified for running out of his lane.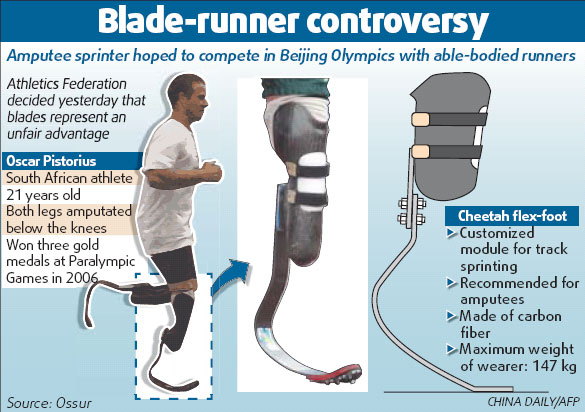 He has made it clear his dream was to compete at this summer's Beijing Olympics, possibly on the South African 4x400m relay team.
The South African denies he gains an unfair advantage over his rivals and he has already said that he will contest any ban imposed by the IAAF on his racing activities.
"I feel that it is my responsibility, on behalf of other disabled athletes, to stand firm," he said. "I will appeal [against] this decision at the highest levels, while also continuing with my quest to race in the Paralympic Games and hopefully the Olympic Games."
Pistorius' manager Peet van Zyl told reporters the athlete would appeal against the decision.
"We are obviously very disappointed with the IAAF decision and we need to talk with them and our legal advisors about how we progress, what we need to do to appeal in terms of the IAAF regulations," van Zyl said.
Pistorius won a gold and bronze at the 2004 Athens Paralympics.