China has been a pairs figure skating powerhouse since 2002, when Shen Xue and Zhao Hongbo snapped the dominant streak of Western skaters to bring China its first-ever pairs world championship title.
But if Chinese figure skaters want to continue their recent success, they still have a lot of work to do on the ice.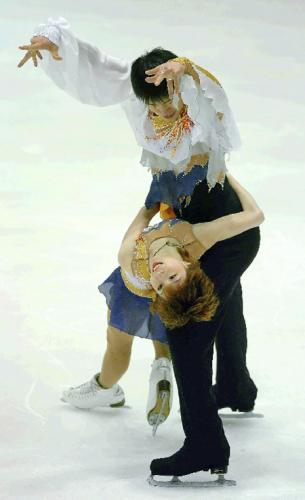 Zhang Dan/Zhang Hao 
Now that Shen/Zhao have temporarily withdrawn from international competition, the pressure for success falls squarely on the shoulders of two other pairs - Olympic silver medalists Zhang Dan/Zhang Hao and 2006 world champions Pang Qing/Tong Jian.
As if competing without their stars wasn't enough of a challenge, some say the new scoring system puts Chinese skaters at a further disadvantage.
"Some of the items of the new judging system take the advantages of western pairs, and some of the judges are very hard on the Chinese skaters," said Yao Bin, head coach of China's national figure skating team.
"But we can do nothing but adjust ourselves to it and improve ourselves to a much higher level."
The situation is not unfamiliar to Yao, known as the "godfather of Chinese figure skating". Yao has coached Chinese pairs since the days when Shen/Zhao struggled to make it into even the top three, and was by their side when they stepped atop the highest podium at the worlds.
"When Shen/Zhao chased the world championship title, they had to do more difficult movements and perform extremely better than others from Europe and America," Yao recalled. "Now the situation is the same for the other two duos. We have to be severe on ourselves firstly and try to do much better if we want to be approved by judges."
But under the new scoring system, which was applied in 2004 by the International Skating Union (ISU) to replace the old 6.0 system, raising the difficulty of a pair's moves is not necessarily an efficient way to improve scores. Judges instead award points based on technical elements and overall program performances.
Each season new new items are added to the scoring system to make it more detailed.
At the World Grand Prix Finals last month in Turin, Zhang/Zhang and Pang/Tong finished second and third, respectively, behind Aliona Savchenko and Robin Szolkowy of Germany, although doubts were cast on the fairness of the judging in some of their technical elements.
Yang Dong, director of the figure skating department of China's Winter Sports Administrative Center, said this is a sign that the new system still needs some work.
"The new judging system is still improving and different technical judges may have a different evaluation of the same element," he said.
"We still have to communicate more with those ISU judges and listen to their advice."
Under the new system, each element in a skater's routine, such as a jump or a spin, is worth a certain amount of points. If a skater performs an element perfectly, he or she receives all the points for that element. The way each specific element is judged therefore becomes very important.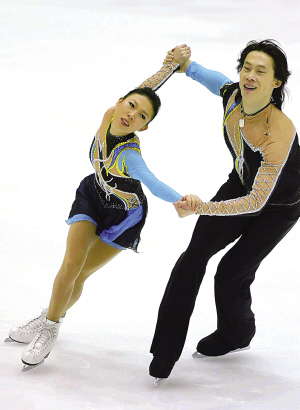 Pang Qing/Tong Jian 
"The new system is more fair and depends more on the details of the movements," Yang said. "I believe most of the ISU judges are impartial. They just have to be familiar with the updated system gradually."
To deal with some of the uncertainties facing judges, Yang suggested Chinese skaters try to wow the judges by showing them something new.
"Some young skaters have started dominating the competitions of women's and men's singles, so the judges may also need some new faces in the pairs," Yang said. "The two Chinese veteran pairs have to impress the judging panel with something new in their appearances and routines."
New faces
After the 2006 Turin Winter Olympics, a group of veteran skaters - including gold-medal pair Tatiana Totmianina/Maxim Marinin, men's singles winner Evgeni Plushenko, and women's singles winner Shizuka Arakawa - retired from competition, opening the door for some new talent.
ISU judges, meanwhile, seem to be impressed with the new breed of skaters: 17-year-old Kim Yu-na is the newly crowned women's Grand Prix Finals winner and 22-year-old Stephane Lambiel is the men's champion. There were also new faces among the pairs finalists.
Yang said Chinese skaters, old and new, have adapted well to the new scoring rules, but stressed that they still have a lot to learn.
"In my opinion, the figure skating nowadays requires difficulty, stability, beauty and new impression," he said. "The Chinese pairs do well in the first three categories, but still have to find something new to impress the judges. This season is not linking to the Olympic year and we will take time to adjust to the new system, as well as learn more about our rivals."
Zhan Hao, who narrowly missed the Grand Prix Final's title with his partner Zhang Dan, is confident in their future.
"We still hold the highest difficulty level and if we are in our best form, I believe we can win," he said.