Fifty years ago in China, Zheng Fengrong was more popular than local hurdling champion Liu Xiang is today.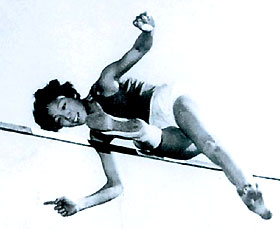 Zheng built her reputation in the late fifties with her iconic "scissor jump". [Courtesy of Zheng Fengrong]
Like Liu, the Athens gold medalist who broke the 110m hurdles world record last year, Zheng also blazed a new trail by setting China's first-ever world record in 1957 -- in the high jump.
Her only major regret is that, when she had the world at her feet, she didn't make the most of it.
"I was too naive to realize the impact of what I had done," the 70-year-old told China Daily. "I just treated it like another personal best."
"If I could go back and live that day over, I'd definitely be more flamboyant, and run over to the audience and wave the national flag like Liu Xiang did in Athens."
While China as a collective whole basked in her success, the foreign media also took note. One Associated Press reporter described her as "a spring sparrow awakening Chinese sports."
Maybe this is because she had done what few other Chinese had done before: beaten an American at a top-level track and field event.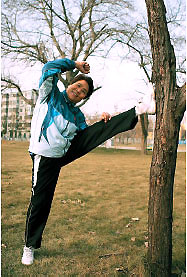 At 70, Zheng Fengrong is still a good sport. [China Daily]
Only 20 at the time, Zheng shattered the women's high jump world record with a leap of 1.77 m at an athletics meet in Beijing on November 17, 1957. In doing so, she beat American Mildred McDaniel's previous record (set at the 1956 Melbourne Olympics) by 1 cm. Her unique scissor jump was later dubbed the "Eastern Jump."
"Breaking the record set by an American was like a dream back then," she said.
With the People's Republic of China only eight years old at the time, and the country known more for its poverty and politics than for its sporting achievements, her feat buoyed the nation.
"My story cheered up all the Chinese who were tired of hearing China called the 'sick man of the East'," she said, speaking from her Beijing apartment.
"In those days, I was more famous than Liu Xiang..."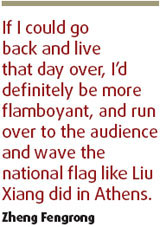 But unlike Liu, Zheng never managed an Olympic medal. China has only been moderately successful at Olympic track at field disciplines, picking up a meager 13 medals over the last 20 years, including a bronze at the men's high jump from the 1984 Los Angeles Games. In Athens three years ago, however, Liu's gold was matched by another from women's 10,000m specialist Xing Huina.
Zheng was stripped of the chance to make a name for herself at the Olympics as China embarked on a 28-year boycott in 1956 to protest the International Olympic Committee's recognition of Taiwan as an independent nation.
With the Beijing Games practically on her doorstep next August, she does not plan on letting another golden opportunity pass her by, and has already applied to serve as a torchbearer.
Long legs
Zheng, a native of East China's Shandong Province, was born with unusually long legs.
She joined China's national high jump team in 1953 and began training with the men - a tough sport and a tough environment that led to much heartache and pain.