GUANGZHOU: Even experienced sportswriters can be surprised by the exploits of athletes.

Like when Yao Ming was drafted No 1 by the Houston Rockets, for example, or when Kobe Bryant scored 81 points.

 It is the same kind of jaw-dropping reaction the icy Li Na got when she sang a lullaby to a group of children she didn't even know.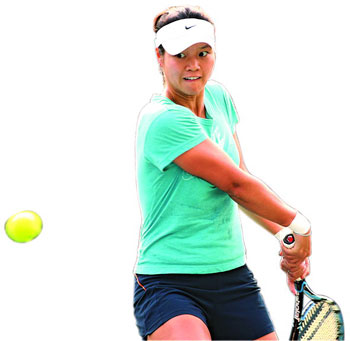 Li Na returns a ball during a training session at the China Tennis Grand Prix in Guangzhou on Sunday. [Courtesy of Beijing International Group]

Despite being voted as the player "hardest to deal with" by Chinese reporters, Li sat among some 50 orphans at the Guangzhou Children's Welfare Center last Friday, bearing chocolate bars and candies, and sang to the youngsters "Baby Swallow", one of China's favorite lullabies.
"Life is hard, isn't it?" she said. "Sometimes you simply don't cherish what you have until you lose it. Looking at the kids here makes me feel like the happiest person in the world."
Coming off a devastating injury that sidelined her for six months and threatened her Olympic dream, Li has learned to appreciate the little things. She is thankful for what she has and hungrier than ever for the Beijing Games.
"I can't tell you how much I missed tennis when I was out," she said. "I can't believe I am here again, to serve and run on the court, and I am emotional to feel everything that I used to take for granted.
"I am more motivated now and I feel my desire for the Olympics is bigger than ever before."
This year was tough for Li, who had to put down the racket because of an inflammation in her ribs just as she was approaching the pinnacle of her career.
As the country's top-ranked singles player and the first Chinese woman ever to make the quarterfinals at a Grand Slam event, the 26-year-old from Hubei compiled her best-ever record during the first five months of the year. She reached a career-best No 16 world ranking in January, becoming the first Chinese to be ranked so high.
With her solid groundstroke and aggressive mindset, Li made it into a Tier I event semifinal twice, at Sydney and Indian Wells, and earlier in the season beat four top 10 players: Jelena Jankovic, Elena Dementieva, Dinara Safina and Kim Clijsters.
She also had the honor of becoming the third Chinese to pass the $1 million mark in career prize-money earnings.
All these things were great, she said, but it all came crashing down when Li injured her ribs at the WTA grass event in Birmingham in May and slipped to world No 30.
An inflammation followed the injury and it was so painful that she could not even walk for almost a month.