Naive attempts to tie their products to the Beijing Games by non-Olympic-affiliated companies are leading to a rise in ambush marketing activities, BOCOG official Chen Feng said this week.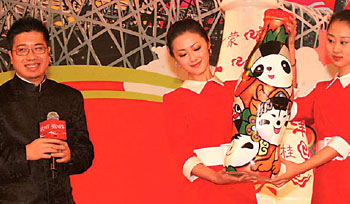 Chen Nan (L), one of the main designers of Fuwa, the Olympic mascots for 2008, has drawn the five mythical creatures on a large plastic bottle of Coca-Cola and submitted it to the soft drink giant's lastest campaign, entitled: 'Open up my home town to the world'. [China Daily]

Olympic sponsors need to rely on better communication, and better education, to control the problem, he said.
"As far as we know, there have been a few cases where the interests and rights of Olympic sponsors have been infringed on," said the deputy director of the Marketing Department of the Beijing Organizing Committee for the Olympic Games.
"In most cases, if we communicate with the offending companies and inform them about the harm they are doing, they stop immediately."
With the Beijing Games only eight months away, more non-Olympic sponsors are linking their brands to the event through implied or direct advertising or promotional slogans.
Chen said BOCOG would join the media in working to root out any bad apples.
Earlier this week, BOCOG also presented a proposal aimed at working together in the fight against ambush marketing at a symposium on the issue.
Signed by BOCOG and representatives from all the Olympic sponsoring companies, the proposal stated that:
- The Olympic worldwide partners and Beijing 2008 Olympic partners and sponsors do not engage in any kind of activity that would promote ambush marketing;
- The various industry associations actively develop Olympic brand protection as well as activities and promotional efforts surrounding anti-ambush marketing education;
- Advertising agencies should increase their understanding of Olympic marketing regulations, respect professional ethics, and not engage in ambush marketing activities.
Some 30 Olympic worldwide partners and Beijing 2008 Olympic partners and sponsors as well as their relevant industry associations were invited to attend the symposium.