Performing to the sounds of "Ave Maria", the yellow-skinned American girl impressed the audience with her excellent spins at the Cup of China, the third stop of the ISU Figure Skating Grand Prix, in Harbin, capital city of Northeast China's Heilongjing Province earlier this month.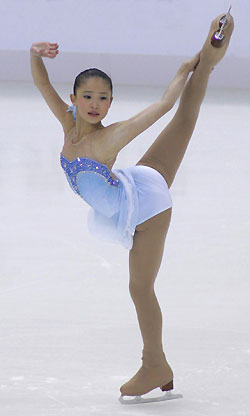 Caroline Zhang
With the same Chinese heritage as Michelle Kwan - a figure skating legend in the US - the 14-year-old Chinese-American, Caroline Zhang, is hoping to be the next Kwan.
"Kwan is my idol. She has very good footwork and good skating presentation," said Zhang. "I wish I could be the 'Kwan No 2' one day."
Competing as a junior in the 2006-07 season, Zhang was impressive in winning the ISU Junior Grand Prix Final and the World Junior Championships.
Now competing as a senior, Zhang finished third at the second Grand Prix stop in America, her first competition with adults. She went on to claim the silver medal at the Cup of China. She now has a good chance to qualify for the Grand Prix Final.
Zhang started skating when she was not quite four years old. She attended a public skating session with her sister in Boston, though she didn't put on the skates again until a year later.
Zhang, whose parents are Chinese immigrants, started taking lessons when she was five at Costa Mesa Ice Chalet in California. She had done ballet since she was three, so figure skating came naturally to her.
"I've always liked watching ballet and gymnastics and skating videos and teaching myself," she said.
She landed her first double axel and her first triple salchow when she was eight, which were big steps for the young skater. By the time she was nine, she could do all the other triples, and she was hooked.
"I like skating because it is very interesting and it is very fast," she said. "We have to work hard, and it's worth it."
Zhang was born in Boston, Massachusettes but now lives in California where she trains with Li Mingzhu, the former coach of Chinese world champion Chen Lu.
Zhang's coordinated body movements and fighting spirit caught Li's attention when Zhang came to see her four years ago.
"Zhang was very aggressive and had good agility, which attracted me when I met her for the first time," said Li. "She is not a powerful skater, but has good spins. She also did well in the interpretation of the music."
The young skater lives and trains in Lakewood and Artesia, California, the same ice her idol Kwan trained on.
Although too young to qualify for the World Championships, many believe Zhang will be a strong contender for the 2010 Vancouver Winter Olympic Games.
"Zhang has the potential to qualify for the US Olympic team," said Li. "The training ahead of the Olympics is very important and we will try to do well in the daily training."