MADRID -- Australia's former financial minister John Fahey won the next presidency of the World Anti-Doping Agency (WADA) on Saturday, putting end to a nomination-election drama full of confusion.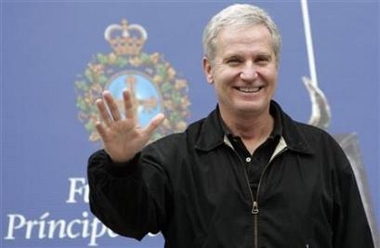 John Fahey waves to photographers after arriving in the Spanish northern town of Oviedo October 17, 2006. Fahey, poised to replace Dick Pound as president of the World Anti-Doping Agency (WADA), must quickly establish himself as a crusader in the role. [Agencies]
The 62-year-old lawyer was elected by the Foundation Board after the European governments' request for a six-month postponement right at the start of the voting was refused by WADA head Dick Pound.
Fahey will take over from Pound, the only president WADA has ever had since its foundation in 1999, to assume the office on January 1, 2008 for a three-year term.
He had been left the only candidate after Europe's choice Jean-Francois Lamour of France abruptly pulled out last month, leaving the Europeans in disappointment and embarassment.
The Australian was already offering an olive branch to the European governments minutes after the election, where four of their representatives strongly complained about the non-consensus procedure but finally abstained instead of voting against him.
"For days, those that represent Europe have indicated that there was nothing personal in this and it was an issue relating to other matters," he addressed a post-election press conference.
"I've made it clear that I will go to Europe early in the new year to see how we can co-operate and collaborate in the work ahead, " he added.
Pound also deemed the four abstentions as a stance of "remaining committed to WADA and avoiding harms to the organization solidarity ".
"I could understand their disappointment and abstentions," he said.
Right before the process moved on to put forward the candidate to the Olympic movement for voting, a lady representative who is understood to be Maud de Boer-Buquicchio, Deputy Secretary General of the Council of Europe, attempted to cut in a speech.
Pound tried to stay in the normal procedure but she continued.
"We took great pride...in our very important role giving life to WADA and fighting against doping. But it's unfortunate that the nomination process was overshadowed by a procedure with no consensus," she said.
Buquicchio then asked formally for a postponement so as to allow enough time to achieve consensus decision.
Pound rejected and four Europeans abstained before Fahey was endorsed unanimously by the Olympic movement members on the Board.
"My decision is not to postpone," Pound said. "This is not a failure of procedure. This is a failure of the candidate (Lamour). I am sorry you have been left with a candidate that let you down."
Long-time favorite Lamour withdrew from the running in fury last month, after Fahey was put forward as a surprise late candidate in September by several non-European countries.