China Thursday slammed media reports as "a total rumor" that the Bible would be prohibited at next year's Beijing Olympic Games.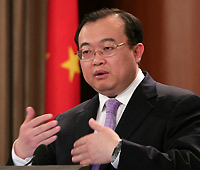 Foreign Ministry spokesman Liu Jianchao on November 8 press conference. [fmprc.org]
The Catholic News Agency published a report the Bible will be banned in the Olympic Village, citing an Italian newspaper.
"As far as I know, Chinese religious affairs authorities and the Beijing Olympic organizers did not and would not issue such a rule and this is a total rumor," Foreign Ministry spokesman Liu Jianchao said Thursday.
"According to the Chinese laws, foreigners are allowed to bring in religious objects or materials, be it print or audio or video, for personal use." And there would be no change in the legal decree during the Olympic Games next year, Liu said at a regular press briefing Thursday.
Rights of religious freedom in China, which also apply to foreigners who live in the country, are protected by the Chinese Constitution and relevant laws, the spokesman said.
Li Zhanjun, director of the Beijing Olympics media center Thursday also condemned the report, saying it was an intentional distortion of the truth.
Li said that a religious service center will be set up in the Olympic Village and religious services, from Christian, Catholic, Muslim, Jewish, Hindu to Buddhist, will be available to athletes next summer.
A temporary Catholic church will also be set up in the Olympic Village and all churches in Beijing will be open to Catholic visitors, Liu Bainian, vice-president of the Chinese Catholic Patriotic Association, said.
Religious services and information will be available in Beijing and each of the six co-host cities, Ye Xiaowen, director of the State Administration of Religious Affairs, told China Daily last month.
China has so far published more than 42 million copies of the Bible in various languages, according to Ye.
The Foreign Ministry spokesman added: "There are always some people who do not want to see China host a successful Olympic Games. This is against the wishes of the people all over the world, as this is a grand gala for them".
Iran nuclear issue
Responding to reports that Iranian President Mahmoud Ahmadinejad said on Wednesday that his country's nuclear program was irreversible, Liu said Iran should "actively respond to international community's concerns and exercise restraint and take a flexible attitude to solve the problem peacefully through dialogue and communication".
"China will continue to play a constructive role in the Iranian nuclear issue and work with United Nations and European Union together to move the matter in the right direction," Liu said Thursday.