Maria Kisseley was impressed by the Water Cube before it was even built.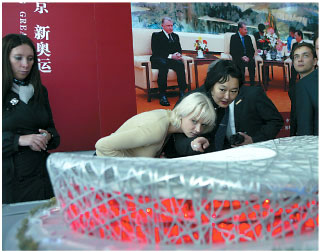 Svetlana Khorkina (second from left) and other members of the Russian Olympic champions delegation look at a model for the National Stadium at the Beijing 2008 Project Exhibition Center. [China Daily]

"I have never seen such a beautiful venue for aquatic sports," said Russia's three-time Olympic synchronized swimming champion of Beijing's under-construction National Aquatics Center.
"I can imagine it will be fantastic to compete in it. I hope to find an opportunity to watch competitions in such a beautiful venue," said the now-retired athlete.
Led by Russian Duma member Alexandra Burataeva, a group of Russian Olympic champions are visiting China this week.
The delegation also includes Svetlana Khorkina, a three-time European all-around champion and two-time Olympic gold medalist in gymnastics; Svetlana Masterkova, a two-time Olympic champion at women's 800m and 1,500m; Aleksandr Tikhonov, a four-time Winter Olympic gold medalist at the biathlon; and Alexandr Yakushev, a two-time Winter Olympic gold medalist in ice hockey.
Praising Beijing's preparations for the Games, Burataeva reminded the organizers to pay attention to the training of volunteers.
"There will be a lot of people who come to China for the first time, so efficient volunteers who are very much familiar with all the situations are very important," said Burataeva, adding that she found the quality of the volunteers at the 2004 Athens Games to be occasionally lacking.
She said this is the first time the Russia-China Peace, Development and Friendship Fund has sent such an Olympic delegation to China.
"We would like to show our support for China hosting the Olympic Games next year," she said. "Many of those retired Olympic champions will come to Beijing as coaches or TV commentators, so they want to experience Beijing's preparations for themselves. We will tell the spectators back in Russia about all the good work being done."
After visiting the Beijing Olympic organizing committee and some venue construction sites, the delegation moved on to the legendary Shaolin Temple in Henan Province and will conclude their China trip in Shanghai on Saturday.