The opening and closing ceremonies of the 2008 Beijing Olympics will cost US$100 million, reports China Business News.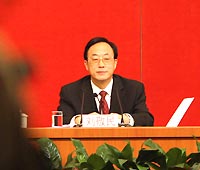 Liu Jingmin, vice-mayor of Beijing and executive vice-president of the Beijing Organizing Committee for the Beijing Games, talks about the preparations for the Games in Beijing October 19, 2007. [Xinhua]
The newspaper revealed the number after interviewing an associate of PricewaterhouseCoopers, one of the world's top consulting companies that was hired for the Olympics in Los Angeles, Barcelona, Sydney and Athens.
The news came just days after a senior official of the Beijing Olympic organizing committee announced an increase to $2 billion for the Games from $1.6 billion.
Feng Heping, who was working on budget management before China landed the right to host the Games in Beijing, told the newspaper that the figure is now $100 million and this includes 20 to 30 percent for unforeseen costs.
In addition to the opening and closing ceremonies, some hi-tech administrative systems, such as the media center and traffic information system, are other costly elements, according to Feng.
On October 19, vice president of Beijing Olympics Liu Jingmin told reporters that the budget for the Beijing Games would swell to $2 billion but below $2.4 billion, equal to the Athens Games in 2004.
The increase was due to the requirements for tighter security and the appreciation of yuan, Liu explained.
The organizing committee re-evaluates the Games budget twice a year to make adjustments and according to International Olympic Committee rules, must publish the figures three times before the 2008 Olympics next August.