SHANGHAI -- Oscar-winning Chinese musician Tan Dun said at an ongoing arts festival that he is going to employ "organic music" - produced by basic natural elements such as water and paper - in his rock-and-roll production for the 2008 Beijing Olympics.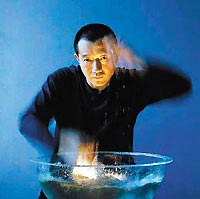 The music, which is still in the middle of production, will make use of sounds in the movements of Chinese athletes, such as "sounds of water splashes by diver Guo Jingjing, ball hits by basketball player Yao Ming and race-starting of hurdler Liu Xiang", Tan said at the 9th China Shanghai International Arts Festival that opened last Thursday.
Tan, winner of the Grammy and Oscar awards for his soundtracks of "Crouching Tiger, Hidden Dragon", had participated in music production for Beijing's 2008 Olympic Bid Film. The native of central China's Hunan Province is one of the musical planners for the opening ceremony, award granting ceremonies and a theme song for the Beijing Olympics.
"I am just one of the Olympic Volunteers who take part in the Olympic music planning," said Tan.
Tan earlier said his favorite athletes are diver Guo Jingjing, basketball player Yao Ming and hurdler Liu Xiang, who is world and Olympic champion in the men's 110m hurdles. Tan said he could "sense musical tempos in their movements".
"They are natural sounds embodying sports passion, which are quite touching," said Tan, adding that in his eyes the three are all musicians because he could "see colors and hear music in their movement rhythm".
Tan is currently testing his idea of bending these sounds of movement in rock music. It was said he had put microphones under the water of Shanghai Swimming Pool to record the sounds created by divers.
"I often think of the scene around the Liuyang river in my hometown, people washing clothes in the river and the musicality of the sounds of water never cease," Tan said, calling water "the tears of nature".
Tan acknowledged his idea of using water as an instrument originated from childhood memories. "This is sound from the nature, which could create different pictures in different hearts," he said.
At the ongoing arts festival, said to be the largest in China, Tan staged his "organic concerto of water and paper" created respectively on commission of the New York Philharmonic and Los Angeles Philharmonic for the opening of the Walt Disney Concert Hall.
At the Water Concerto, percussionists drummed the surface of the water by hand or with glasses in a number of large, clear, transparent water basins on stage. They also used a range of instruments such as bowls, tubes, shakers, bottles and bells, which were immersed in the basins, and rhythmically rocked them to create "extraordinary sound effects".
Three Japanese percussionists drummed, tore, blew, shook, crumpled and slapped papers, cardboards, boxes, paper bags and paper umbrellas on the stage in the Paper Concerto, to show "how ordinary paper objects from daily life can create sounds of longing and suffering as well as loving".
Anne-Marie Slaughtee from the United States, who currently teaches in Shanghai, said after the concert that Tan Dun is able to introduce oriental culture to the west through a creative method.
Tan's "organic music" attempt, beginning at the end of the 1980s, incorporates sounds and instruments from the natural world - water, wind, ceramics and paper - to create a new type of "experiencing music", which also echoes traditional Chinese culture of "human life being in a highly harmony with nature".
Hosted by the Ministry of Culture and sponsored by the Shanghai Municipal Government, the China Shanghai International Arts Festival, which will run through a month, has become a major cultural gala and an artistic pageant.