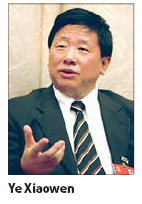 The needs of people of all religions will be comprehensively met during next year's Olympics, a top religious affairs official said yesterday.
"Under the leadership of Beijing Organizing Committee for the 2008 Olympics, we have been studying the practices adopted by previous host countries in order to meet the needs of all athletes and visitors," Ye Xiaowen, director of the State Administration of Religious Affairs, said.
"I promise the religious services provided during the Beijing Games will be as good as any provided at previous Games," Ye told reporters during a group interview on the sidelines of the ongoing Party congress.
The construction of religious facilities has been progressing smoothly, he said.
A religious service center will be set up in the Olympic Village to provide a diverse range of services to meet the needs of athletes from various religious convictions, a spokesperson for the Games' organizers said.
Athletes and those who accompany them will be able to enjoy different dishes specially made in accordance with their religious beliefs, the spokesperson said.
Liu Bainian, vice-president of the Chinese Catholic Patriotic Association, said a temporary Catholic church will be set up in the Olympic Village and all churches in Beijing will be open to Catholic visitors.
Religious services and information will be available in Beijing and each of the six co-host cities.
Beijing is expected to receive about 500,000-550,000 overseas visitors for the 29th Summer Olympiad, which runs from August 8-24, 2008.
Ye said religion has been playing an increasingly important role in the country's economic and social development.
Under new religious freedom guidelines, the government is keen to respect the beliefs of all its citizens, protect their interests and make efforts to facilitate their activeness in social development, he said.
"We should take positive measures to facilitate the role of religion in building a harmonious society," he said.
Ye said China is a multi-religious country and had no history of conflict between religious factions. People of all faiths here would continue to live in harmony in the future.
Figures show that in 1997, China was home to about 100 million religious believers, mostly Buddhists, Taoists, Protestants, Catholics and Muslims.
Ye said more recent figures are unavailable but suggested the numbers of Buddhists, Taoists and Christians were rising.
The country has so far published more than 42 million copies of the Bible in various languages. There has also been an increase in demand for other religious publications.
(China Daily 10/18/2007 page5)