The feud between China's two largest websites over Olympic advertising sales rights has escalated since the city celebrated the one-year countdown to the Summer Games last month.

Sohu, the Internet content sponsor of the Beijing Games, claims that online ads from other sponsors with the Beijing Olympics logo can only appear on its website, while arch rival Sina says it plans to boost its Olympic content development and marketing to attract all kinds of advertisers. Both companies are listed on the Nasdaq.
Adding insult to injury, Sina and its partners have contested Sohu's claim of exclusivity. They say Sohu's sponsorship only entitles it to create the official website for BOCOG and to use the Beijing Games logo of a running man in its marketing.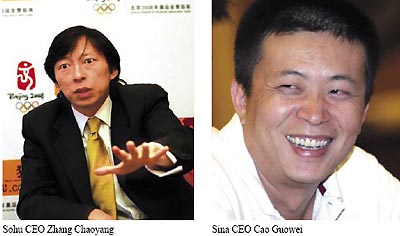 As the situation grows increasingly tense, Olympic organizers have found it necessary to intervene. They have confirmed Sohu's marketing rights as an Olympic sponsor, such as its eligibility to use the Olympic logo, while promising crackdowns on "ambush marketing," which occurs when a company tries to establish or imply an association with the Games without paying any royalties.
Sina has since toned down its "Olympic marketing" publicity campaign. Yet banners from Olympic sponsors featuring the logo of a runner can still be seen on sina.com.
Sohu must be disappointed as Olympic marketing officials have yet to confirm it owns the exclusive rights to carry online ads from other Olympic sponsors. The company has made significant cash and service investments in BOCOG, estimated at $30 million by some media reports, to become the Internet sponsor of the Games, the first of its kind in Olympic history.
The online rivalry is taking place against a backdrop of exploding growth in Internet use as well as an online ad boom in China.
By June 2007, China had 162 million Internet users, second only to the United States. Spending on online ads is estimated at 8.3 billion yuan ($1.1 billion) this year alone.
To media observers, what's particularly significant is that the top Chinese websites seem to have graduated from their founding phase, during which they depended on assembling news content from traditional media to score hits, to using more content generated by their own staff and bloggers.
In its Olympic reporting, Sina will continue to partner with traditional news media to produce content, but it will also offer 20.08 million yuan in prize money to encourage users to create content on its community websites.
Sina says it plans to deploy a 450-strong team to cover the Games in Chinese, English, French, German, Spanish and Arabic.
In the growing war of words, Sohu has dismissed Sina's strategies. It uses the analogy of "a regular army to a small band of guerrillas" when comparing itself to Sina in terms of Olympic news coverage. As the operator of the official BOCOG website, Sohu says it has easy access to Olympic coverage when interviewing officials and sports stars.
The challenge is whether Sohu's "regular soldiers" will continue to maintain the diverse and sometimes maverick reporting styles that are key to the popularity of China's commercial websites and a subsequent migration of advertising from print to online.
Since it remains to be seen how and when BOCOG will rule on the controversy over the two site's rights, Sohu should focus more on improving its products to attract more readers and advertisers. If it plans on triumphing in this fight for online ad revenue, a sponsor's privileges may not be enough to secure victory.
Email:yuanzhou@chinadaily.com.cn