OLYMPICS/ self introduction
---
Best results in 14 years, boosting confidence for Olympics
(Xinhua)
Updated: 2007-09-02 21:27
OSAKA -- With one gold, one silver and one bronze, China achieved its best results since 1993 at the world athletics championships, which boosted their confidence in preparing for the Beijing Olympic Games.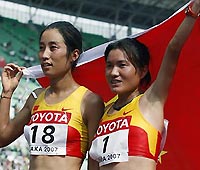 China's Zhou Chunxiu (R) poses with her compatriot Zhu Xiaolin after they completed the women's marathon at the 11th IAAF World Athletics Championship in Osaka September 2, 2007. Zhou placed second and Zhu fouth. [Reuters]
Even Lamine Diack, the IAAF president, believed that Chinese athletes will have better performances in the newly-built Chinese National Stadium at the Beijing Olympics.
"I believe the Chinese athletes can do better in the Olympics because they compete at home," said Diack in an interview with Xinhua. "Liu Xiang will 100 per cent have the chance to win again and I think China can make breakthroughs in other events."
Liu became the first man from China to win gold at the world championships with a 110 meters hurdles victory.
The 24-year-old Shanghai native has already been a superstar in China following his Olympic triumph in Athens and the 12.88 seconds he clocked to break the world record in Lausanne last summer.
China should have won a second gold through London marathon winner Zhou Chunxiu. But Zhou, the year's fastest runner, was overtaken by Kenya's eventual winner Catherine Ndereba with two kilometers to go and had to settle for a silver.
Feng Shuyong, general coach of the Chinese national team, said he had expected the result and he was satisfied with Zhou's performance.
"Today we saw our weak points," he said. "It will surely do good to our preparations for the Olympic Games."
Zhou was the first Chinese marathoner to win a medal in the world championships and Olympic Games.
Zhang Wenxiu, competing in her fourth world championships, won a bronze in the women's hammer throw. Having rich experience aged only 21, she has been tipped by Feng as a gold medal hopeful in the Olympics.
Liu Xiang's gold was also China's first since 1999, when Liu Hongyu won the women's 20km walk. And the 1-1-1 medal tally was the best since 1993 when China won four gold, two silver and two bronze. Three gold medals were from controversial coach Ma Junren's middle and long distance runners.
China sent a record of 56 athletes, 24 men and 31 women, to the Osaka worlds. Three men were in top eight. Besides Liu Xiang, Shi Dongpeng finished fifth in the men's 110m hurdles and 20-year-old Sun Chao was seventh in the 50km walking.
As for the 33 Chinese women athletes, they competed in 14 events and nine people reached top eight in six events including discus throw, marathon, 400m hurdles, triple jump, shot put and hammer throw.
China, who won the women's shot put in two consecutive championships in 1991 and 1993 through Huang Zhihong, has three people in the top eight this time. Li Lingling finished fourth with a personal best of 19.38 meters. Li Meiju was sixth and 17-year-old Gong Lijiao finished seventh.
In the women's 400m hurdles, Huang Xiaoxiao, fifth in Helsinki, showed her consistent form and took the fifth place again. She also improved her personal time to 54 seconds in the semifinals.
But it was not so good for the Chinese walkers. Feng, a second-class long jumper-turned national coach, said the walkers' performances have disappointed everyone.
In the men's 20km walking, the best Chinese finisher was 13th and in the 50km event, three of them were disqualified. In the women's 20km, the first Chinese to cross the finish line was in the 15th place.
"There are still a lot our walkers should do before the Olympic Games," Feng said.
"But as a whole, our performances in Osaka showed that we had made a lot of progress," Feng added. "It really increased our confidence. I believe that as long as we make more efforts and train harder our future in the Olympic Games is bright."