OLYMPICS/ self introduction
---
China set to dominate gymnastic worlds
(Xinhua)
Updated: 2007-09-01 16:04
STUTTGART, Germany -- The Stuttgart World Gymnastic Championships follows the one-year countdown to the Beijing Olympic Games, showcasing the world a much anticipated top gymnasts matchup from September 1-9.
As a benchmark tournament leading up to the Beijing Olympics, everyone gets to give everything to it. Double roles, the host of Beijing Olympics and the eight-gold winner from Aarhus worlds, put China in the spotlight of the championships.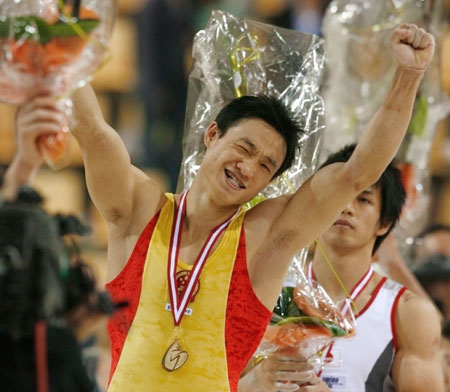 Gold medallist Yang Wei of China blinks with his eye to his supporters during the podium ceremony for the men's individual all-around final at the 39th Artistic Gymnastics World Championships in Aarhus, Denmark, October 19, 2006. [Reuters]
The historic eight gold medals from Aarhus worlds came somewhat from a bit of luck, but more evidently from capability. Chinese team deserved the glory. Their hard and scientific training justified everything they got and that are yet to get.
If someone says China is strong enough to match the rest of the gymnastic world ahead of last year's championships, it's quite likely to stir up a lot of jeers, but not for now.
Chinese head coach Huang Yubin downplayed China's eight-gold feat.
"I think we enjoy the temporary leading position because we studied the new judging system maybe earlier than the other teams and therefore undertand it better," said Huang.
"But after the championships, they would learn more about the rules and train better. I believe they would catch up soon."
Nevertheless, China has never stopped its stride to be better and stronger.
China developed a series of new routines for national team gymnasts. What's the point for that? High difficulty says best.
"As a qualifier for the Olympic Games and world championships, no one can downplay national championships. All the high-difficulty routines will be shown here, so the championships will check up the output of last winter's training," coach Zhang Peiwen told Xinhua during the national championships in June.
This time, China keeps the men's line-up still experienced enough to retain their team title, but the women's team features a flock of fresh blood.
The men's team includes several world champions: Yang Wei, Chen Yibing, Xiao Qin, Liang Fuliang, Zou Kai and Feng Jing. Yang, the triple gold medalist in Aarhus, maintains a superb shape in the year by leading individual all-around and rings title at China's national championships. A second triple in Stuttgart is not something intangible.