OLYMPICS/ self introduction
---
Liu Xiang wins first world athletics crown
(Reuters)
Updated: 2007-08-31 22:58
China's Liu Xiang gave a near flawless display of high hurdling to win the 110 metres gold and complete his collection of major titles on Friday.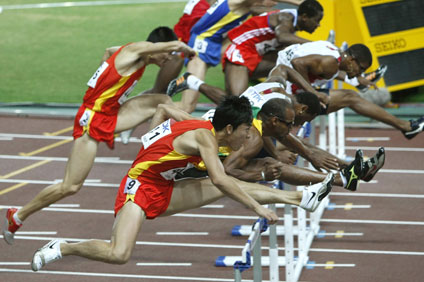 China's Liu Xiang (front) clears a hurdle on way to winning the men's 110 metres hurdles final at the 11th IAAF World Athletics Championships in Osaka August 31, 2007. [Reuters]
The 24-year-old Olympic champion and world record holder relied on his technical prowess to make up for a mediocre start, surging across the line in 12.95 seconds to become China's first male world champion on the track.
"It's really great, it's really great," the 24-year-old said. "They're all important (but) I'm very happy with the time because in a big international event you don't often get that kind of time."
American Terrence Trammell ran 12.99 for a fourth silver medal to add to the one he won as runner-up at the 2003 world championships and two in the Olympics.
"Even if I won the silver, I feel like I missed the gold," Trammell said. "I felt like I could win, but Liu just had the better race -- I am making no excuses."
His compatriot David Payne, who only arrived in Osaka as a late replacement for injured US record holder Dominique Arnold on Tuesday, won a fairytale bronze in 13.02.
"I can't believe it," he said. "I only learned I could run some 45 hours ago. I'm so excited."
Even if the time was outside his world mark of 12.88, the evening belonged to Liu, who has progressed from bronze to silver to gold over the last three world championships.
The Asian champion, lacking the raw power of his bigger rivals, trailed the Americans out of the blocks but soon got into the flow of his smooth rhythm in the outside lane.
While he was gently grazing hurdles in the middle section of the race, Trammell and Payne were knocking them flat and by the time the trio were sprinting for the line, Liu had time to turn his head and check he had won.
When he realised he had, a huge beam spread across his face and looked up at a group of his compatriots and pointed both fingers at his face.
"Everything went smoothly tonight, my opponent is myself," he added.
Liu said his next event would be at the IAAF meeting in his native Shanghai at the end of September as he moves ever closer to the highly anticipated defence of his Olympic title in Beijing next August.