OLYMPICS/ Culture
---
Hot Knot wins big at Huabiao
(china.org.cn)
Updated: 2007-08-29 10:21
At Sunday night's award ceremony for the 12th Huabiao Film Awards - the top award for Chinese movies - the romance blockbuster The Knot, or Yun Shui Yao, claimed six key prizes for Best Feature Film, Best Director, Best Actor, Best Actress, Best Playwright and Best Film Technology.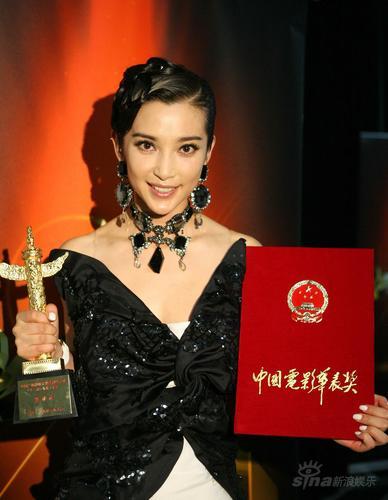 Li Bingbing displays the Huabiao Award for Best Actress at the 12th Huabiao Film Awards ceremony in Beijing on Sunday, August 26, 2007. The awards are regarded as the top prize in China's film industry. [sina.com]
The Huabiao Film Awards were established by the Chinese government in 1957 as the Ministry of Culture Excellence Film Award, and have employed the current name since 1994.
The Huabiao Film Awards are unique because one award may go to several winners. This year, 10 entries out of 20 nominees shared the Best Feature Film Award, including The Knot, Tokyo Trial and Riding Alone for Thousands of Miles.
The director, actor and actress awards were also given to twin winners. Yin Li (The Knot) and Gao Qunshu (The Tokyo Trial) were honored as Best Director, Chen Kun (The Knot) and Fu Dalong (The Forest Ranger) Best Actor, while Li Bingbing (The Knot) and Ding Jiali (The Lane Premier) were crowned Best Actress.
Director Ning Hao and his low-cost box-office hit Crazy Stones snatched three awards - Best New Director, Best Digital Film and Best Film Technology.