OLYMPICS/ Team china
---
Eton schoolboy gallops toward Beijing Games
By Tan Yingzi (China Daily)
Updated: 2007-08-22 09:50
When Prince Charming is looking for the right steed, the princely sum of 30 million yuan (US$3.8 million) comes in handy.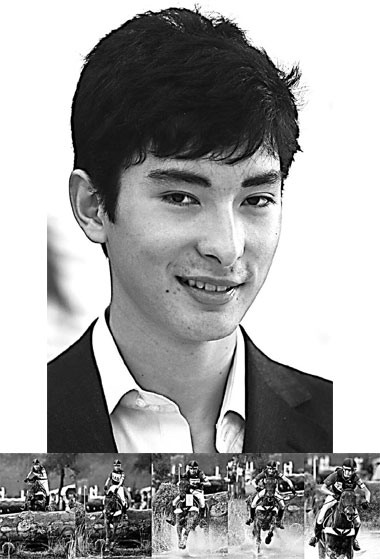 Alex Hua Tian (top and above) is one step closer to becoming the first Chinese rider in Olympic eventing competition after landing a massive $3.8-million sponsorship last week. File photo
The figure became a reality for 17-year-old Chinese equestrian prospect Alex Hua Tian when he formed a sponsorship with Guangdong businessman Jiang Fengcai last week after the youngster's talent and passion won over the tycoon.
To meet Olympic rules, horse owners must hail from the same country as riders and Hua Tian and his family had been looking desperately for a Chinese horse owner until Jiang came forth.
Hua Tian can now afford the mounts needed to fulfill his Olympic dream of competing for China next year.
"I am more lucky than any other riders," the lanky young man told China Daily.
"In Britain, only very few top riders can get such big sponsorships.
"But because I am the only Chinese (competing for the Olympic eventing qualification), I can get the sponsorship and go to the Olympics much easier."
Dressed in a tailor-made black suit, the handsome Eton College student, who is on one-year leave to prepare for the 2008 Olympics, appeared before local media for the first time and impressed with his polite and collected manner.
Hua Tian is the first Chinese rider registered by the International Equestrian Federation.
He is also the first Chinese rider to compete in the three-day category of an international equestrian event, a sport which, according to London Times' senior sports correspondent Simon Barnes is "the finest sport ever devised: the most perfect, the most thrilling, the most noble."
Hua Tian rode several three-star international events this year including Britain's Gatcombe on WP In Limbo after riding Chance Bid at Barbury Castle, Chatsworth and Burnham Market and mount Ede in the Netherlands.
"It is a fantastic opportunity for China to have a rider as talented as Alex Hua Tian to compete in the 2008 Olympics: here in China," Hong Kong Equestrian Federation Vice-Chairman Edwin McCauley said.
"Alex has already become very popular in England and France amongst eventing people and the newspapers for his riding ability and his delightful personality - he is a wonderful ambassador for China."
Equipped with the requisite qualities to excel in eventing - talent, dedication and patience - Hua Tian has the potential to make his Olympic dream come true as one of the youngest event riders in Olympic history (if he qualifies for Beijing).
"The average age of the Olympic event riders is around 35 and what Hua Tian achieved at such a young age is really amazing," his proud father Hua Shan, an aviation industry businessman, said.
Hua Tian was born into a family with a long tradition of horse riding.
His mother Sara Noble, from a traditional British family, learnt to ride when she was very young, while his maternal grandfather hunted and steeple chased.
"From when I was born, I was around horses, patting, feeding, even held on a horse's back but mainly observing," Hua Tian told China Daily. "Thus, as a four year old, actually learning to ride was the next step in a natural progression.
"This equine upbringing is very important to a rider's career at the stage where I started riding Xiao Hulu, horses were such a part of me I didn't really think twice about it."
When he was five, his family moved from Beijing to Hong Kong.
After starting his riding training at the exclusive Hong Kong Jockey Club, where the 2008 Olympic equestrian events will be staged, family connections led Hua Tian to guidance of the world's leading event riders Clayton and Lucinda Fredericks.
Clayton is the current world No 1 event rider, the 2005 World Cup champion and president of international body the Event Riders Association.
His wife, Lucinda, is currently ranked No 12 and recently won the four-star eventing competition in the British town of Badminton.
"I have trained with them since I was 10 years old and they are my idols," Hua Tian said. "Their yard (in Wiltshire, Britain) is like home away from home.
"They are like friends and parents. Currently I live with them and we train together every day.
"I learn all my skills from them and pretty much everything I know I have to owe to them.
"The most important characteristics for an event rider are patience and dedication. I think I have both of them."
Now the couple, who is also vying for their first Olympic eventing quest, is doing their utmost to bring their protge with them to Hong Kong for next year's Olympics.
"He is now the only Chinese event rider in a position to take part in the Olympic qualifiers," Clayton said.
"As long as Mr Hua Tian has the right horse, he is closer to qualify for the Olympics than anyone else."
As host country China is automatically allocated six berths in equestrian - four in jumping, one in dressage and another in eventing - while riders from other countries have to meet tough qualifying standards.
"The biggest challenge ahead is to get used to the new horses," Hua Tian said.
"We are still looking for suitable horses and the time to cope with the new ones before the Olympic qualifiers is quite short.
"My first aim for the 2008 Olympics is to qualify and compete and I will take anything on top of that as a bonus.
"After that, I will finish my study at Eton and then probably go to Oxford."