OLYMPICS/ News
---
Beach volleyball too hot to handle
By Chen Xiangfeng (China Daily)
Updated: 2007-08-21 10:01
There was only one problem with last week's Olympic Beach Volleyball test event - very few people turned out to watch daytime games.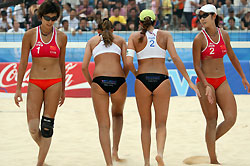 Throughout the weeklong tournament, cameramen and photographers failed to snap a single picture of a local audience wearing a bikini.[Xinhu]
As temperatures soared during the Good Luck Beijing Beach Volleyball Challenger, less than 100 spectators showed up during the hottest hours for what was expected to be the most popular Olympic warm-up.
"We came early in the morning but it is still too hot and we cannot take it any more," spectator Li Zheng said as he left with his wife just two hours after their arrival. "I think it would be better if a roof was built."
Many have blamed the lack of interest on the fact Beijing is landlocked.
"What if the venue was along the seaside?" asked Liu Kejie, from the city of Ningbo in east China's Zhejiang Province.
"I am sure no matter how hot it was, lots of people would come and enjoy the sport as well as the sand and the sea."
Beijing native Liu Zheng agreed it would be a different story if the sand was adjacent to the sea or even a river.
"It is a pity," he said.
"Even if there was a river along the stands, it would be much better and more attractive to people.
"You could go and swim during the interim of matches. That would be great."
Many Beijing residents still know nothing about the sport normally so popular with spectators.
Glorious sunshine, beautiful bikini-clad cheerleaders, hip hop music and raucous fans dancing and waving to music all add up to a tremendous spectacle.
"It is a new sport to me," Peking University student Cao Jun said.
"It is a charming sport - the dancers wearing bikinis and also the dynamic music. I think young people will love the sport."
But Cao admitted the hot weather was a thorn in beach volleyball's side.
"Some people came and left soon," he noted.
"Some were taking umbrellas and seemed impatient under the sunshine."
Cao said things were better after 6pm when bigger crowds showed up for the evening matches.
But 2000 people hardly covered a single section of the 12,000-seat grandstand.
"There was hardly a Mexican wave and dancing fans on the standings," Cao added.
"Not to mention the possibility of seeing Chinese girls wearing bikinis."
Throughout the weeklong tournament, cameramen and photographers failed to snap a single picture of a local woman wearing a bikini.
"There might be some open-minded girls to wear bikini," Li Qun, a 27-year-old IT worker, said.
"But like me, most of the ladies in China are still not brave enough."
The sport's governing body is aware of the above problems and said more efforts would be made before the 2008 Beijing Olympics.