Zhuang Xiaoyan
(BOCOG)
Updated: 2007-07-29 20:11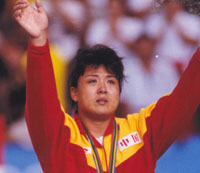 Name:Zhuang Xiaoyan
Gender:F
Birth Date:May 4, 1969
Birth Place:Liaoning Province
Sport:Judo  
Personal best:
Gold Medal of +72kg class Judo, 1992 Olympic Games

Sports career:
Zhuang took up athletics shot-put and discus in a local spare-time sports school at age 14. She entered the Liaoning provincial judo team after being spotted by one of the coaches on the team. And then she joined the national team in 1986.
High Performances:
1990 Beijing Asian Games - 1st open class
1991 World Championships - 1st open class
1992 Barcelona Olympic Games - 1st +72kg class (China's first Olympic gold medal in judo)
At Present:
Zhuang's training with the Liaoning team laid a solid foundation for her future achievements. After joining the national team, she developed a unique, graceful sparring style accentuated with quick movements and powerful attacks. Facing Cuban Estela Rodriguez Villanueva, with 9cm, 20kg advantage on her, in the finals of the 25th Olympics, Zhuang intimidated her rival with her patented "tiger" style, seized the initiative and took her oversized counterpart down in +72kg class, which made her dream of winning China's first Olympic judo gold come true. Retired in 1995 and has been working with the Liaoning provincial institute of sports technology responsible for judo training.