Chen Yueling
(BOCOG)
Updated: 2007-07-29 18:49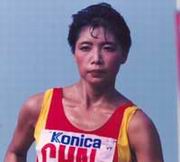 Personal Best:
Games Gold Medal of 10km, 1992 Barcelona Olympic
Sports Career:
Chen was keen on mountain climbing and long-distance running as a primary school pupil. She entered Tieling Sports School in 1985, and was soon taken on by the Liaoning provincial walking team after being spotted by Wang Kui, the famous walking coach. The first time she represented Liaoning in a national walking competition was in 1986.
High Performances:
1986 National Tournament - 3rd 10000m
1987 National Invitational - 1st 3000m, 2nd 5000m
1987 National Games - 1st 10000m (WR), 2nd 5000m
1989 World Cup - 1st 10km
1990 Asian Games - 1st 10km
1991 Tokyo World Track & Field Championships - 8th 10km
1992 Barcelona Olympic Games - 1st 10km
Honors:
1993 - Awarded Gold Commemorative Medal by Asian Track & Field Federation
At Present:
Soon after her retirement in August 1993, Liu became a student at Brigham Young University, USA. She settled down in San Diego in 1994, where served as a market representative of the International Natural Choice Group, while continuing her studies in a local college. Now she works as a director of the US Walking Union and spokeswoman for both US Kidney Foundation and Pan-Asian Overseas Chinese Union.
Name: Chen Yueling
Gender: Female
Birth Date: April 1, 1968
Birth Place: Liaoning Province
Sport: Track & field - race walking