Xu Haifeng

Updated: 2007-07-29 18:08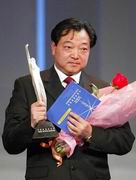 Personal Best :
    Xu was the Gold Medal Winner of 50m pistol (60 shots) Men at the23rd Olympic Games, L.A.
    Sports Career:
    From the little slinging 'bird-terminator' to Olympic winner, Xu Haifeng has been ambitious to become a sharpshooter since childhood. Through years of strictly self-disciplined practicing, the determined Xu trained himself a real crack shot despite the lack of professional regular shooting training. In 1982, Xu enrolled in the provincial shooting team of Anhui, and two years later in 1984, the marksman started his sports career in the national team.
    High Performances:
    1984   The 23rd Olympic Games, L.A  Gold, individual free pistol 60 shots, China's first Olympic gold medal
    1986   The 10th Asia Games, Seoul  -Gold, individual free pistol (Temporary WR breaking score of 660pts )-Gold, individual air pistol-Gold, team free pistol
    1990            Asia Games, Beijing  Four gold medals
    1991   World Air Pistol Championship  Gold
    1991   The 7th Asian Championship  Five gold medals
    At Present:
    Since retired in 1994, the athlete XU has gradually switched his career toward coaching: first appointed in 1994 as the Coach of women's pistol in the National Shooting Team, later the Assistant Coach of the National Shooting Team, then the Coach of the National Shooting Team appointed in March 2001, and three month later the vice-president of the Shooting and Archery Administrative Center under the State General Administration of Sports.
    Coaching Highlights:
    1996  -At the 1996 Atlanta Olympic Games, Li Dui-hong won the gold of the women's 25m sporting pistol with Xu Haifeng at the coaching helm.
    2000  -At the 2000 Sydney Olympic Games, Tao Lu-na, one of Xu's trainees, won the gold of the women's 10m air pistol.
    The self-trained world champion, the first gold winner of the 23rd Olympic Games, China's first Olympic gold winner, the coach of two Olympic gold winners¡­XU Haifeng, the creator of the country's history of Olympic golds, froze the breath-taking shot at the 23rd Games and since then began a new era of China's Olympic history. True to his name of the 'gold athlete' and 'gold coach', XU Haifeng will be remembered as a sports hero and a legend never fade.

Name:Xu Haifeng
Gender:M
Birth Date :August 10, 1957
Birth Place:Fujian Province
Sport:Shooting