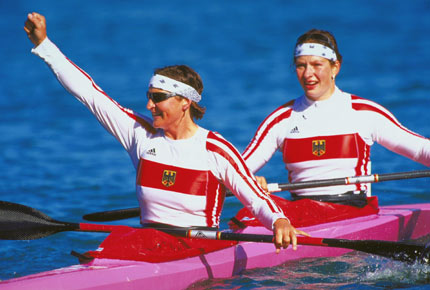 Sydney, 1 October 2000, Games of the XXVII Olympiad. Birgit FISCHER and Katrin WAGNER of Germany celebrate their gold medal win in the canoe-kayak K2 500m doubles final at the Regatta Centre. Credit : Getty Images/Darren England
Other names: FISCHER-SCHMIDT, Birgit SCHMIDT, Birgit
Born: 25 February 1962
Birthplace: Brandenburg (Germany)
Nationality: Germany
Sport: Canoe / Kayak
ATTENDANCE AT THE OLYMPIC GAMES
Moscow 1980
Seoul 1988
Barcelona 1992
Atlanta 1996
Sydney 2000
Athens 2004
AWARDS
Olympic medals:
Gold: 8
Silver: 4
Other results:
World Championships
Gold: 27 (79, 81, 83, 85, 87, 93, 94, 95, 97, 98)
Silver: 6 (94, 95, 98, 99)
Bronze: 2 (93, 94)
The Greatest Canoeing Champion
Birgit Fischer is the only woman to win Olympic medals 20 years apart. She is also the only canoeist to earn twelve medals. She began her Olympic career in 1980.
When she won the kayak singles, she became, at age 18, the youngest canoeing champion in Olympic history. She did not compete in 1984 because her nation, East Germany, boycotted the Los Angeles Games. She would have been favoured to win all three women's kayak events, just as she did at the world championships of 1981, 1982 and 1983.
Fischer did make it to the 1988 Olympics. In the singles final, she was upset by Vania Gesheva of Bulgaria. However, Fischer returned 1½ hours later to earn a gold medal in the pairs race. The next day, she added another gold in the kayak fours. In 1992, Fischer won another gold medal in singles and gained a silver in fours.
In Atlanta, she earned a gold medal in fours and a silver in pairs. She also placed fourth in the singles event, missing a medal by less than six tenths of a second. At the 2000 Olympics, Fischer, by now 38 years old, won yet another gold medal in the fours. The following day, in her last Olympic performance, she won the kayak pairs to bring her career gold medal total to six. At the Athens Olympic Games in 2004, Birgit Fischer again won the gold medal in the fours (K-4 500m) and the silver in the double (K-2 500m).
This performance made her the athlete with the most medals in this discipline and puts her in second place behind Latynina (gymnastics) in the list of athletes with the most Olympic medals, with a total of 12 medals.