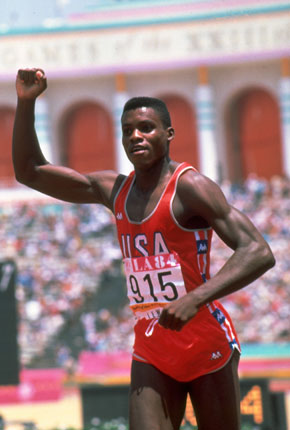 Los Angeles, 4 August 1984, Coliseum Stadium. Men's 100m final of the Games of the XXIII Olympiad: Carl LEWIS of the United States after his victory. Credit: Getty Images/DUFFY Tony
Other names:
LEWIS, Carleton Frederick
LEWIS, Carleton
Born: 1 July 1961
Birthplace: Birmingham (United States)
Nationality: United States
Sport: Athletics
ATTENDANCE AT THE OLYMPIC GAMES
Los Angeles 1984
Seoul 1988
Barcelona 1992
Atlanta 1996
AWARDS
Olympic medals:
Gold: 9
Silver: 1
Other results:
World Championships
Gold: 8 (83, 87, 91)
Silver: 1 (91)
Bronze: 1 (93)
King Carl
Carl Lewis is one of only four Olympic athletes to win nine gold medals and one of only three to win the same individual event four times. In 1984, Lewis matched Jesse Owens' feat of winning four gold medals with victories in the 100m, the 200m, the long jump and the 4x100m relay. At the 1988 Seoul Games, Lewis gained a second gold medal in the 100m after Ben Johnson was disqualified. He also defended his long jump title and finished second in the 200m. At the 1992 Barcelona Olympics, Lewis won a third gold medal in the long jump, defeating world record holder Mike Powell by three centimetres. He also anchored the world record-setting U.S. relay team. In 1996, Lewis barely qualified for the U.S. Olympic squad, placing third in the long jump trials by only three centimetres. At the Atlanta Games, he needed all three jumps to qualify for the final. In the final, he moved into first place with his third jump and no one was able to catch him. Twelve years after his triumphs in Los Angeles (or, as Lewis put it, "fourteen hairstyles" later), Carl Lewis was still the Olympic long jump champion.