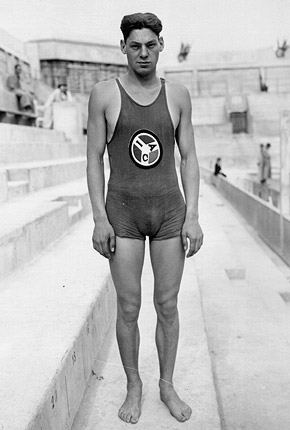 Paris 1924, Games of the VIII Olympiad. Johnny WEISSMULLER of the United States, freestyle swimming triple gold medallist in the 100m, 400m and 4x200m relay events. Credit: IOC Olympic Museum Collections
Other names: WEISMULLER, John
Born: 2 June 1904
Deceased: 20 January 1984
Birthplace: Freidorf (Hungary)
Nationality: United States
Sport: Aquatics
ATTENDANCE AT THE OLYMPIC GAMES
Paris 1924
Amsterdam 1928
AWARDS
Olympic medals:
Gold: 5
Bronze: 1
Other results:
USA National Championships
Gold: 18 (1921 - 1923,1925 -1928)
"Olympic Tarzan"
Johnny Weissmuller was the winner of the 100m freestyle in 1924 and 1928 and a member of the winning 4x200m relay team in both years. He also won a bronze medal in the 1924 water polo competition at the Olympics. Weissmuller set 28 world records and such was his margin of superiority over his contemporaries that many authorities still rate him ahead of Mark Spitz as the greatest swimmer of all time. Because of the limited number of events available to Weissmuller, his Olympic record cannot be fairly compared with that of Spitz but the longevity of his records is a testament to his greatness. His 1927 world record for the 100 yard freestyle was unbeaten for 17 years, a remarkable length of time during a period of rapid development in the sport. Much of his success was due to his revolutionary high-riding stroke, flutter kick and head-turning breathing. Invited for a screen test for the role of Tarzan, Weissmuller was chosen over 150 other applicants and went on to become the most famous screen Tarzan of all, playing the role in 12 movies between 1932 and 1948.