BOCOG medical service training center unveiled
(BOCOG)
Updated: 2007-06-18 17:19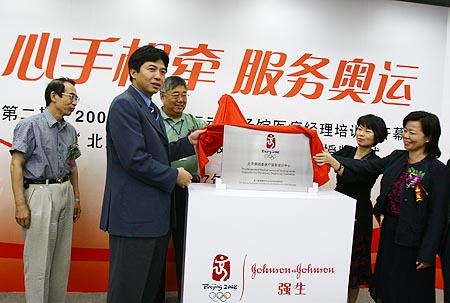 The Worldwide Olympic Partner Johnson & Johnson has been authorized to conduct medical services training for the Beijing 2008 Olympic Games.
A Beijing-based center of the company will also serve as a training base for the Games' medical service volunteers, according to a ceremony held in Beijing on Thursday.
Beijing will receive a total of 10,500 athletes, some 200,000 accredited personnel and over six million spectators during the next Summer Olympics. Under such circumstances, the Games Service Department of the Beijing Organizing Committee for the Games of the XXIX Olympiad (BOCOG) will set up a total of 170 medical stations in the competition venues and use some 140 ambulances for the purpose. Over 40 venue medical service managers and 4,000 professional volunteers are expected to take part in the Olympic medical services.
BOCOG Games Services Department Vice-Director Dai Jianping, Marketing Department Vice-Director Liu Jun, and Johnson & Johnson Vice-President Liu Yuping attended the ceremony.