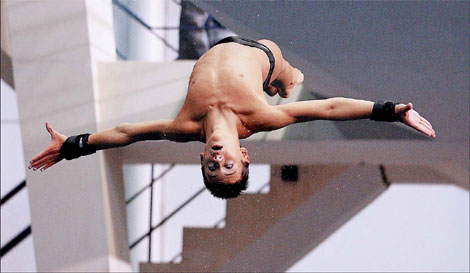 Fourteen-year-old British diver Tom Daley. CFP
Tom Daley, for many the darling of the Games so far, begins his bid for a medal today. The 14-year-old Briton will be diving in the 10m platform synchronized diving event at the Water Cube.
If he is successful, he has the chance of becoming Britain's youngest ever medalist.
But he has so far attracted more attention outside the pool, having been photographed with Wimbedon champion Rafael Nadal and both Kobe Bryant and LeBron James of the US basketball team.
"He's a kid in the chocolate factory," Steve Foley, the performance director of the GB diving squad told London's The Times newspaper.
And he adds: "He's having a ball and he's not overawed at all. That's the great thing about the Olympics. Some people freeze in that environment, but he doesn't. The more he absorbs - and he's a smart, intelligent boy - the better off he will be in the long term."
Daley, himself, has so far been modest about all the attention he has received.
"I have got a bit more attention from girls but there will be no serious girlfriends until after the Games."
Daley has also indicated that he won't be shy when it comes to exploiting his marketing potential once the Games is over.
At the British divers media conference, he effortlessly slipped in plugs for companies such as the British DIY chain B&Q, Visa and tour agency Sportsworld with stage-school confidence.
He has also seemingly made himself comfortable in the Olympic Village.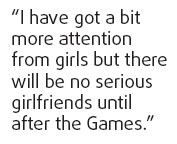 Daley said: "The athletes' village is amazing, you'll never get bored. There's lots of stuff to do and they even make stamps of your own face, which I've used to send postcards home.
"It's great to go into the food hall and see all the different sports stars from all over the place and be free to go and speak to them."
Alongside his synchronized partner Blake Aldridge , 26, he will face up to the formidable Chinese diving team today in what will be his toughest challenge yet.
The teenanger from Plymouth, Devon in southwest England has had a remarkable year.
He was a surprise qualifier for the Olympics at the FINA world cup in February and then a month later became the European 10m platform champion in Eindhoven at just 13.
Beijing could just be a staging post on the way to the 2012 games on home soil.
But Foley added in his Times interview: "The beauty of Tom is that he is so focused on his diving. He's here to learn but we're fully aware that if he and Blake dive really well, they are in with a chance. It's a hot event, but it's the one China will be worried about not winning. It's going to be one heck of an event."
Agencies
(China Daily 08/11/2008 page20)