手机报-China Daily
ChinaDaily早报1.20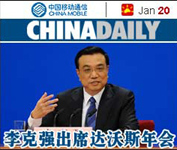 【Morning Buzz】
They're both convinced
That a sudden passion joined them.
Such certainty is beautiful,
But uncertainty is more beautiful still.
— Wislawa Szymborska, Polish poet, essayist and translator, b.1923
他们彼此深信,
是瞬间迸发的热情让他们相遇。
这样的确信是美丽的,
但变幻无常更为美丽。
——辛波丝卡,波兰诗人、散文家、翻译家,生于1923年
早安,各位。
【Markets】
Dow Jones
17,511.57 +190.86 +1.10%
Nasdaq
4,634.38 +63.56 +1.39%
【Highlights】
>Li attends annual WEF
李克强出席达沃斯年会
>China extends tax refunds
我国全境启动离境退税
>Alibaba releases new app
阿里发布'钉钉'挑战微信
>Prisoners buy inventions
监狱发明家已成产业链
>Foreigners dominate robots
外企占机器人市场70%
>UK's prince of presents
乔治王子一年收礼800件
>Language of women's legs
研究:女性坐姿看出性格
【Top News】
>Li attends annual WEF
李克强出席达沃斯年会
Premier Li Keqiang will attend the 2015 Annual Meeting of the World Economic Forum (WEF) in Davos and pay a working visit to Switzerland from Tuesday to Thursday. This is the first diplomatic activity for a Chinese leader this year. As the world economic situation remains uncertain and the international community is paying close attention to China's comprehensive deepening reform, Li will deliver a speech at the meeting to boost the world's confidence in the prospects of the Chinese economy, present reform achievements and share opportunities.
国务院总理李克强将于20日至22日赴瑞士出席在达沃斯举行的世界经济论坛2015年年会,并对瑞士进行工作访问。这是中国主要领导人今年首次出访。在世界经济形势前景不明、中国全面深化改革备受瞩目的大背景下,李克强将在会上发表演讲,向世界传递中国信心,展示改革成绩,分享中国机遇。
[中瑞有望达成金融合作]
China and Switzerland are expected to reach an important consensus on areas including finance, trade, science and research, food and medicine, and culture and announce a series of new cooperation agreements, especially in financial cooperation.
中瑞两国有望在金融、经贸、科研、食品与药品及人文等多个领域达成重要共识,宣布一批新的合作成果,特别是在金融合作领域。(新华社)
>China extends tax refunds
我国全境启动离境退税
Overseas visitors can claim tax refunds on purchases across China, the Ministry of Finance announced recently, as part of the effort to boost inbound trips and domestic consumption, and reverse the tourism deficit. Foreign tourists, as well as those from Hong Kong, Macao and Taiwan who have stayed in the Chinese mainland for no more than 183 days, can receive a rebate of 11% on consumer goods purchased at designated department stores. The minimum purchase for a tax refund is RMB500 at any one store in one day.
财政部近日宣布,境外旅客今后在中国全境购买个人物品可申请离境退税。这一计划是为了刺激外国游客入境旅游消费,扭转旅游业逆差。根据这一计划,境外旅客,包括港澳台游客,在指定商店购买物品,且在境内逗留不超过183天,可按规定申请退税,退税率为11%。起退点为每日500元。(中国日报)
>Alibaba releases new app
阿里发布'钉钉'挑战微信
Alibaba has released a group communication app called "Dingding" in a low-key way. The highlight of the app is that it connects mobile and telecom networks. Users can make free calls with one person or several people. A voice message within the app will be transformed to a call to a cellphone. If it's a group chat, everyone will get a call from a person called "Dingding". Ordinary users can have 100-minute free talk time per month while business users can have 1,000 minutes for free.
阿里巴巴近日低调发布一款团队通讯软件"钉钉"。该软件最大的亮点是实现了移动网络和电信网络无缝连接,可以免费打电话,单聊群聊都可以。APP内的语音留言会转化成电话拨到手机上。如果是多方通话,各方都会收到名为"钉钉"的人打来的电话。普通用户每月有100分钟的免费通话时间,企业用户每月有1000分钟。
[反人类功能]
Many white-collar workers complain that their boss assigns work via the app WeChat in their rest time, so they pretend they haven't seen it. However, after a message is sent out via Dingding, it will show who has read it and who hasn't, so such a ruse won't be possible anymore. To the people that really haven't read the message, the boss can send it as a call or a text message to their phone.
很多白领抱怨老板在休息时间通过微信布置任务,所以浏览后假装没看见。钉钉群组的信息发出之后,会显示哪些人已读,哪些人未读,无法再假装。对于没有读信息的人,老板还可以将内容以电话录音或短信的方式发送到对方手机。(钛媒体)
>Prisoners buy inventions
监狱发明家已成产业链
In recent years there have been quite a number of reports about prisoners who used to be officials or celebrities getting reduced sentences through their inventions. But reporters discovered after investigation that many prisoners make use of inventions bought online to reduce their sentences, and a great number of professional organizations which provide invention patents to prisoners are emerging. These organizations indicate on their websites that they provide inventions and patent application services to prisoners, including customizing inventions based on prisoners' interests or expertise.
近年来官员、名人在狱中进行发明创造而获得减刑的现象屡见报端。记者经过调查发现,不少服刑人员利用从网上买来的发明来减刑,为服刑人员提供发明专利的机构渐趋规模化、专业化。这些机构在其网站上明确标明为监狱服刑人员提供发明申请专利减刑服务,服务内容包括根据服刑人员兴趣或专长量身定制发明成果。(人民网)
>Foreigners dominate robots
外企占机器人市场70%
Although China has become the biggest robot market in the world, the research and development of domestic robots still lags behind that of other countries. According to the International Federation of Robotics, foreign companies sold over 27,000 industrial robots to China in 2013, which accounts for over 70% of China's robot market. Due to a lack of technology to produce core components, China's domestic robot companies have little bargaining space when procuring components from foreign companies, which drives the costs up and weakens their competitiveness.
我国目前已成为全球第一大机器人市场,但本土机器人研发制造水平在国际竞争中仍处于劣势。国际机器人联合会统计显示,2013年外资企业在华销售工业机器人总量超过2.7万台,占据中国市场70%以上的份额。由于缺乏核心零部件技术,我国企业在采购中议价空间狭窄,导致成本居高不下,市场竞争力不强。(经济参考报)
【Newsmaker】
>UK's prince of presents
乔治王子一年收礼800件
Prince George was showered with nearly 800 official gifts last year, which means he received more presents than any other member of the British Royal Family. According to Kensington Palace, the future king received more than 250 toys on his inaugural royal tour to Australia and New Zealand last April, and more than 120 items of clothing. Details of the presents were published recently in the official list of gifts given to the Royals in 2014. The exact value of each item is not listed, so as not to offend the giver, and many are also so unique the price is virtually impossible to calculate.(See photo)
乔治小王子去年收到了近800件官方礼品,成为了收礼最多的英皇室成员。根据肯辛顿宫的统计,2014年4月,在乔治首次出访澳洲和新西兰之旅中,这位未来的小国王收到了250多件玩具和120多件衣服。官方近日发布了2014王室接收的礼物清单,公布了礼物细节。为了尊重每一位礼物的馈赠者,每件礼品的具体价值没有列出,而且很多礼物都独一无二,价值根本无法用金钱衡量。(见图)(每日邮报)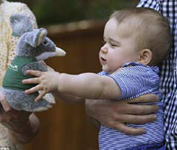 【Kaleidoscope】
>Language of women's legs
研究:女性坐姿看出性格
How a woman sits conveys certain messages. Clinical psychologist John A. Blazer has categorized 7 sitting postures for women and defined their psychological characteristics. For example, if a woman is sitting pigeon-toed, she lacks confidence. If she's crossing her legs, she feels threatened or she is ambitious and competitive.
女性的坐姿会传递出某种信息。临床心理医生约翰·A·布莱泽把女人的坐姿分为7种,并总结了她们的心理特征。如果女性在坐着时两只脚内八字,说明她没自信。如果女性翘着二郎腿,表明感到自己被威胁,或者这是个野心勃勃而且争强好胜的女人。(外媒)
【有声新闻】
>Woman delivers quintuplets
A 31-year-old woman delivered quintuplets in Heze, Shangdong province. The chance that a woman would have five babies at the same time is one in 65 million. The heaviest baby weighed 1.135 kg, and the tiniest one died after birth due to premature delivery.
答案:B
幸运中奖用户:
四川成都 183****8346
获赠10元话费
【实用口语】
下棋时走错了一步想要反悔,对方不让,你就耍赖!明明闯了红灯,交警要处罚你时,你却说被前车挡住视线没有看到变灯。这也是明目张胆的耍赖!今天,我们就一起学一学怎么用英文耍赖!
游戏时耍赖:
That doesn't count.  
那不算!
We weren't playing for real.  
我们不是玩真的。
欠钱时耍赖:
Money has been really tight lately...  
最近手头有点紧……
I've had so many other expenses...  
我有太多其他的费用要付……
【本期难词汇编】
working visit: 工作访问
ruse: 诡计(n.)
low-key: 低调的(adj.)
procure: 采购(v.)
customize: 定制(v.)
inaugural: 首次的(adj.)
pigeon-toed: 内八字脚的(adj.)
【Subscribe】
Text "CD" to 10658000.
Twice a day, 5 yuan a month.
发短信CD到10658000
订阅ChinaDaily手机报
每日两期,5元/月
客服短信:106580007835(免信息费)
合作邮箱:mobile@chinadaily.com.cn
点击查看更多往日精彩手机报