Ice and snow bring tourist boom to Urumqi
Updated: 2018-02-12
Urumqi's ice and snow is bringing the city an increasing number of tourists and increasing amount of tourist revenue.
In 2017, Urumqi received a total of 33 million visitors, an increase of 30.3 percent over 2016. The tourist revenue reached 45 billion yuan ($7.12 billion), a year-on-year increase of 32.2 percent.
Its good snow quality and proper temperature make Urumqi a dreamland of ice and snow tourism, and have won it the title of "the most beautiful snow land", conferred by INTERSKI.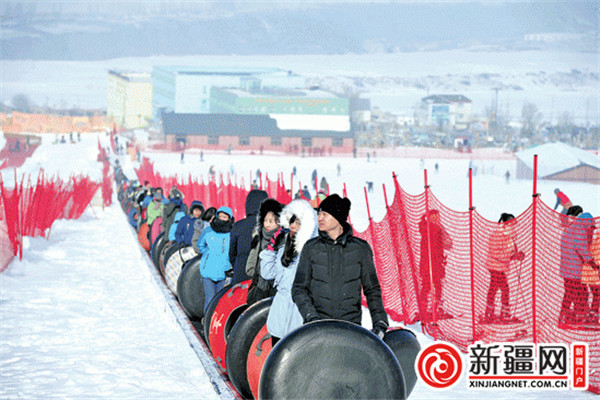 Tourists ride on a conveyor belt in Silk Road International Tourist Resort. [Photo by Chen Yan/xinjiangnet.com.cn]
At the end of 2017, Urumqi was rated a "Top 10 Ice and Snow Tourist City", in fourth place after Harbin, Jilin and Zhangjiakou.
The Silk Road International Tourist Resort, the most popular skiing scenic spot in Urumqi, has also rebuilt and upgraded its facilities to provide better services for worldwide tourists.
This winter, the resort extended its ski runs to cover 700,000 square meters and installed the first high-speed cable car in Xinjiang Uygur autonomous region with a speed three times that of existing cable cars.
The Silk Road International Tourist Resort has meanwhile combined skiing with hot-springs and offered new services including motor homes and cabins, a better experience for tourists.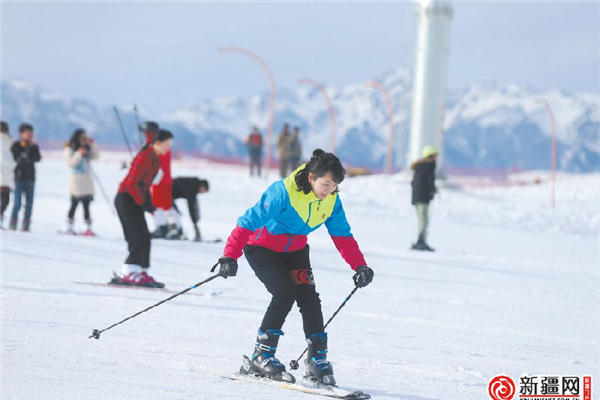 A tourist tries skiing at the Silk Road International Tourist Resort. [Photo by Jiang Xiao/xinjiangnet.com.cn]
Chen Liansheng, president of Baiyun International Ski Resort, another local famous tourist destination, said the resort was upgraded to a 5S-level ski resort. It has built many new recreation facilities for children as well as 20 guestrooms and conference rooms.
Currently, Urumqi has 26 national A-level tourist resorts, nine percent of all those in Xinjiang. There are eight S-level ski resorts, including two at the 5S-level, accounting for 34.8 percent of such facilities in the region.
At the end of 2017, Air Xiya cooperated with the Urumqi Tourism Bureau to jointly launch fly-by tourist projects. Three newly opened air tourist routes allow visitors to admire the Tianshan Grand Canyon, No 1 Glacier and Mount Bogda from above and up-close.
Urumqi is currently striving to build itself into an internationally renowned tourist destination, a first-class winter sports base and a national-level tourist resort.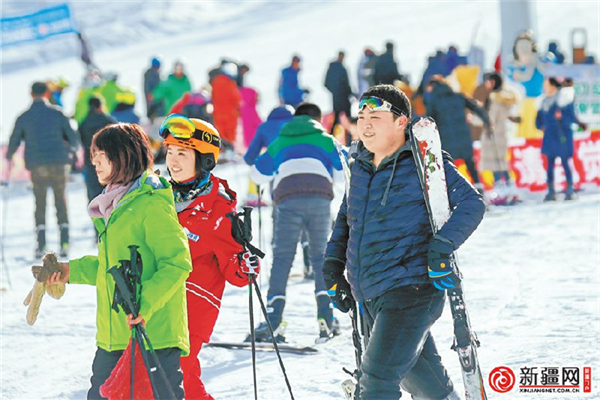 A group of tourists prepare to hit the slopes at the resort. [Photo by Jiang Xiao/xinjiangnet.com.cn]