Karamay's machine manufacturing industry has undergone rapid expansion since government authorities outlined plans to build a manufacturing base there at the start of China's 12th Five Year Plan in 2011.
Back in 2010, there were only four machinery manufacturing companies based in the Karamay Petrochemical Industrial Park. By the end of 2015, there were 141 companies in the park, accounting for a total industrial output value of 168.2 billion yuan ($24.8 billion). Of those companies, 96 are machinery and equipment manufacturing ones.
Items now manufactured at the park include pumping units, steam-injection boilers, wellhead equipment, pressure vessels and automated welding machines.
A slew of preferential policies established by the city government and Karamay's proximity to countries along the Belt and Road are thought to be largely responsible for the recent growth.
As more and more well-known companies flocked to the city to set up branches, investment poured in.
Baoji Petroleum Steel Pipe Co. (Karamay) invested 340 million yuan ($50 million) to build a base there, marking a key turning point in the city's bid to become a machinery manufacturing hub in Western China.
Baosteel Group, the country's largest steel maker and a Fortune 500 company, opened a plant in Karamay on Sept 12, 2012. The plant produces 60,000 tons of oil piping annually.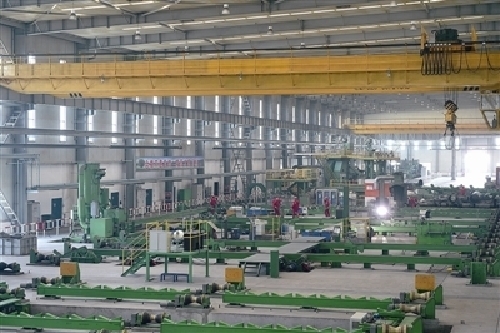 The factory of Baoji Petroleum Steel Pipe Co. (Karamay) is buzzing with workers and machines. [Photo/kelamayi.com.cn]
Karamay Petrochemical Industrial Park is now home to the likes of China Shipbuilding Industry Corporation, Jiangsu Jinshi Machinery Group, Shandong Shengli Xinda Company and SANY Group.
Jiangsu Jinshi Machinery Group invested 320 million yuan ($47 million) in its Karamay-based company to expand the drilling equipment market in the Xinjiang region, Central Asia and the Middle East.
China Shipbuilding Industry Corporation, the biggest shipbuilding company in China, followed suit by entering the park with a total investment of 600 million yuan ($88 million) in September, 2013.
The biennial China (Karamay) International Petroleum & Petrochemical Technology and Equipment Exhibition has already become the most prestigious oil expo in China. Its influence extends beyond China to Central Asia and has become a concomitant trading platform.
Karamay's achievements in the manufacturing industry over the last five years have forged a path for improving R&D capability of local machinery companies and driving the transformation and upgrading of its traditional manufacturing industry.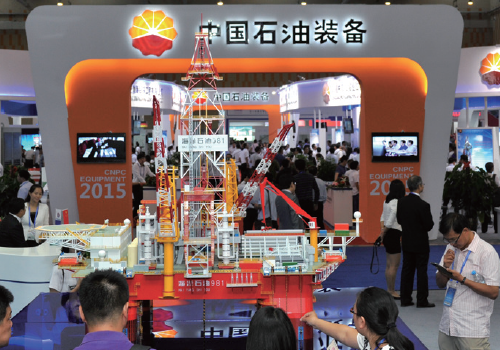 The 2015 China (Karamay) International Petroleum & Petrochemical Technology and Equipment Exhibition attracts many visitors from all over the world. [Photo/kelamayi.com.cn]
Edited by Jacob Hooson