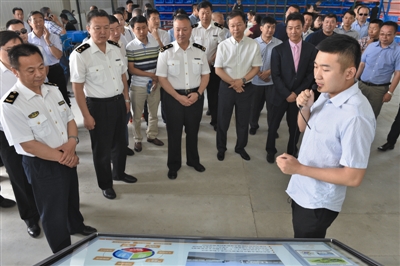 Officials of Urumqi customs and the Karamay government listen to a briefing about Xinjiang's cargo clearance process. [Photo/ kelamayi.com.cn]
Some 500 "Aidelaisi" clothing items, the traditional Xinjiang silk clothes exported to Kazakhstan, cleared customs at Jintai International Logistics Park in Karamay city on June 20, the first of Karamay's and even Xinjiang's e-commerce commodities to do so.
Arken Vumar, deputy director of Urumqi city customs, said that the cross-border e-commerce will establish a new platform for Xinjiang to extend export channels and upgrade Karamay's industries.
He added that Xinjiang customs will focus on developing Xinjiang cross-border e-commerce to provide efficient service to enterprises and attract more enterprises to Xinjiang.
As a national wisdom pilot city and demonstration construction city of CNGI (China Next Generation Internet), Karamay has attracted many well-known enterprises and big data centers, which is favorable for developing cross-border e-commerce.
Due to its comprehensive transportation system of highways, railways, aviation, and pipelines Karamay has become a transportation hub in North Xinjiang. Now, as an information center, the city also functions as a customs supervision warehouse for cross-border e-commerce.
The city's government bureaus will increase cooperation with customs and other supervision departments to support and facilitate cross-border trade, said Du Yong, a member of the city Party committee.
The smooth clearance of Xinjiang's first cross-border e-commerce shipment paves the way for Karamay's e-commerce trade with Central Asian and European countries in the future, said Xu Jianhui, the city's vice-mayor.
Edited by Peter Nordlinger