Tian Ruining, a 19-year-old Karamay girl, has become the first athlete in Xinjiang to be admitted to the national speed skating team.
Tian started to learn skating in Karamay at the age of 10. When she was 13 she represented Karamay at the 12th Xinjiang Sports Game, winning four individual competitions.
Tian was selected for the Xinjiang speed skating team in August 2010. In the same year, she broke the Xinjiang skating record. Two years later, she joined China's national youth speed skating team.
Tian performed well in many games in China and in Asia in the following years. She is now training intensely for the 2020 National Winter Games, which will be her first time competing in an adult age group. If she does well there, she will be able to enter the 2022 Olympic Winter Games.
Considering the short career of a speed skater, Tian plans to further her studies in athletic psychology and become a professional in athletic rehabilitation and psychology after retiring.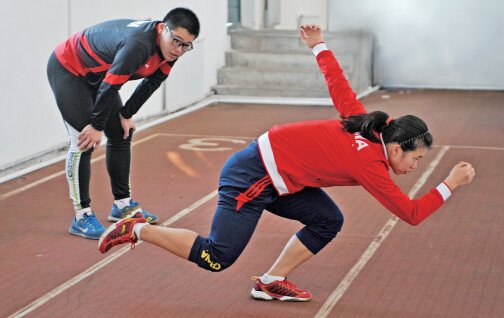 Tian Ruining demonstrates speed skating skills to a member of Karamay's speed skating team. [Photo/epaper.kelamayi.com.cn]
Edited by Peter Nordlinger