Karamay carried out a simulated traffic accident emergency exercise on Nov 28, the Karamay Daily reported.
In the drill, a private car and motorcycle collided. The driver was seriously injured and the motorcycle caught fire.
After receiving the alarm, the Karamay traffic police brigade quickly launched an emergency plan for major traffic accidents. They reported the situation, immediately rushed to the site of the accident, arranged for a traffic police squadron, joint firefighting squadron, hospital ambulance staff, and rescue people and reported to the traffic police detachment.
A vehicle illegally occupied a residential fire road, blocking rescue vehicles. Traffic police took charge at the scene. The medical staff took emergency measures and sent the wounded to the hospital, and the vehicle owners were punished along with those who illegally occupied the fire exits.
"This exercise is to control a motor vehicle that illegally occupied the fire road," said Li Wu, vice captain of the Karamay traffic police detachment.
He hoped that this exercise can improve emergency rescue capabilities and protect people's lives and property.
Traffic police reminded the public of the dangers of illegal parking, which is likely to cause traffic jams and accidents and affect accident rescue.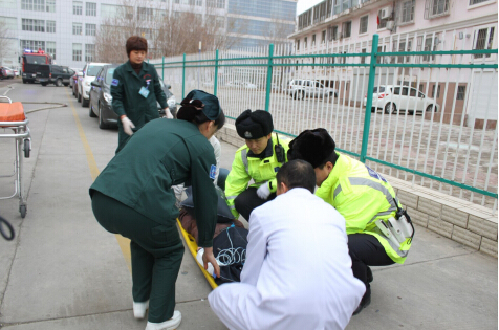 Traffic police, emergency staff, and fire department take emergency measures in a drill in Karamay on Nov 28. [Photo/epaper.kelamayi.com.cn]
Edited by Peter Nordlinger