Karamay traffic police held a promotion themed "safe and courteous traveling, refusing dangerous driving" on Dec 2, the 4th National Traffic Safety Day, Karamay Daily reported.
Participants signed banners promising to ensure a stable and safe situation in politics, social life and industrial production. Then they delivered publicity brochures to city drivers.
"The traffic accident rate has steadily dropped on key roads and vehicles this year. The National Traffic Safety Day will be a new starting point in our work," said Shuai Jun, Political Commissar of Karamay traffic police detachment.
Delegates from Karamay traffic police detachment, city civilization office, safety supervision bureau and other governmental organizations took part in the activity.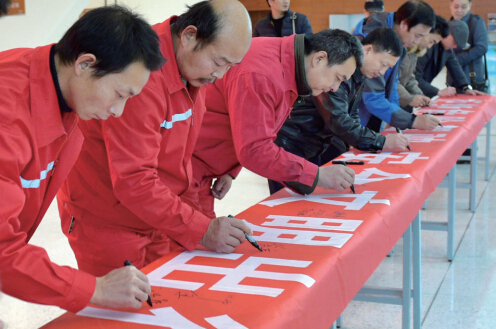 Participants of safe driving activity sign banners in Karamay, Xinjiang Uygur autonomous region, on Dec 2. [Photo/epaper.kelamayi.com.cn]
Edited by Andrew Ancheta