A ceremony marking a donation of calligraphy works was held in the Art Exhibition Hall of Karamay Culture Street on Nov 5, the Karamay Daily reported.
Li Boling, president of the Karamay Painting Academy and an international first-class artist, donated a 36 meter long artwork to the government of Karamay district. The piece is made up of 26 separate calligraphy images.
"The calligraphy is magnificent and the donation reflects his love for the hometown of Karamay," said Wang Jun, secretary of the party's Karamay district committee.
Li explained his creative process to the audiences before giving a lecture on calligraphy at the donation ceremony.
The exhibition lasted until Nov 11.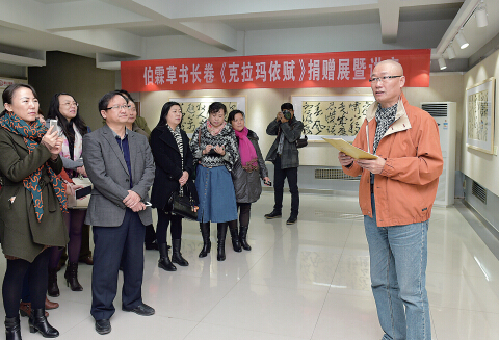 Li Boling tells the visitors about the process of creating his calligraphy on Nov 5 at Karamay. [Photo/epaper.kelamayi.com]
Edited by Peter Nordlinger