The 10th Karamay Health Cup Basketball Competition opened on Dec 14 at Karamay Stadium. Twenty four local teams and two from Tacheng prefecture and Hefeng county took part.
After eight days of fierce competition, Haotai Investment Group's team went home with the first prize.
The Health Cup Basketball Competition is one of the city's most important sporting events. Hosted by Karamay Sports Federation, the competition used to be among government institutions and state-owned companies. Since it became increasingly popular, local private teams and groups have also participated in the games.
People in Karamay were invited to watch all the games for free at Karamay Stadium, Mount Blackoil Stadium and the basketball arenas of Karamay Material Supply Co and Institute of Engineering Technology.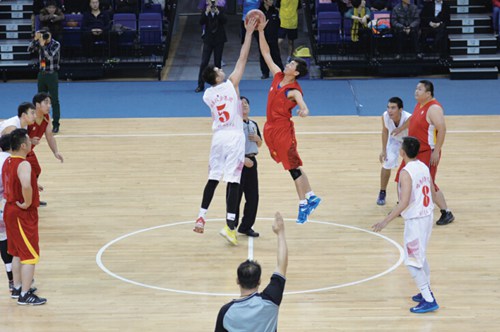 Two teams from Haotai Investment Group and Karamay local government compete in the Health Cup Competition. [Photo/epaper.kelamayi.com.cn]
Edited by Brian Salter