You Are Here  :  
Home
 > 
News Center
Xiamen-Moscow train extends service to Southeast Asia
(chinadaily.com.cn), Updated: 2019-01-02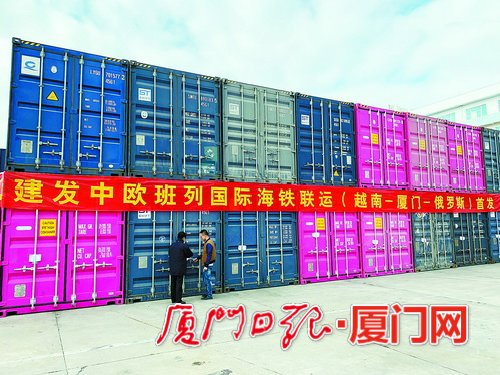 A staff member from Xiamen Customs affixes seals for the Vietnam containers transited from the Chinese city to Moscow. [Photo/xmnn.cn]
Containers from Vietnam were transited to Moscow by a train from Xiamen, Fujian province on Dec 30, according to local media reports.
The event signals that the Xiamen-Moscow train has succeeded in extending its service to the Southeast Asia region.
It has also become the first cargo shipping business combining rail and sea transport since China's General Administration of Customs approved the city's cross-border container shipping from Taiwan and the Southeast Asian countries in September 2018.
The combined transportation saved half the time required to make the entire journey by sea.
According to Xiamen C&D Bonded Logistics Co Ltd, operator of the Xiamen-Moscow trains, the company has received numerous consultations on rail-sea combined cross-border transportation since the first departure from Xiamen, which means an increasing number of cargos from Taiwan and the Southeast Asian countries will be transited from the city in the near future.
Statistics from the company show that to date, a total of 4,019 containers with 1.5 billion yuan ($217 million) worth of goods have been delivered by 99 Xiamen-Moscow trains since operations began in August 2017.
In 2018, 71 trains transported 2,868 containers with cargos worth 1 billion yuan from Xiamen to the Russian city.