You Are Here  :  
Home
 > 
News Center
Xiamen firm debuts at Microsoft conference
(chinadaily.com.cn), Updated: 2018-10-10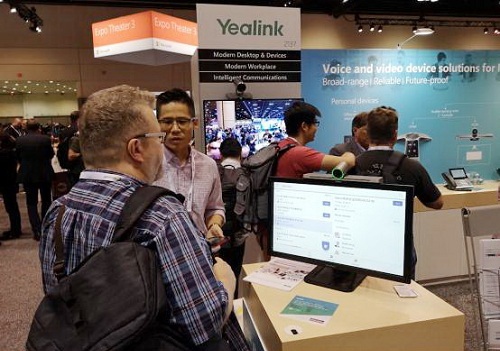 Attendees of the recent Microsoft Ignite technology conference held in Orlando, the United States experience the newly released audio-video devices by Xiamen-based company Yealink. [Photo/ifeng.com]
Yealink, a global leading provider of unified communication and collaboration solutions, showcased a series of newly developed audio-video devices at the recent Microsoft Ignite technology conference held in Orlando, the United States.
The devices, co-developed by the Xiamen-based company and Microsoft, include two types of desktop phone, a video conference terminal, a conference phone, and a Skype conference room system.
This is not the first time that the Chinese company has cooperated with Microsoft.
As early as 2015, Yealink established a long-term strategic partnership with the American company with the aim of developing smart communication devices and systems.
Lin Gong, president of Yealink, attributes the company's popularity among European and American customers to its high quality products.
"Our products' defective repair rate is less than three thousandths, which more than satisifies the European Union's safety standards," Lin said.
Yealink has always attached great importance to technology development and independent innovation.
At present, more than half of its employees around the world are researchers and nearly 100 million yuan ($14.45 million) was invested in technology development in 2017, accounting for 7.16 percent of its total operation revenue.
In recent years, the software industry in Xiamen has seen prosperous development with its reveune skyrocketing from 92.18 billion yuan in 2015 to 128.29 billion yuan in 2017, making it one of the city's key industrial chains worth 100 billion yuan.