You Are Here  :  
Home
 > 
News Center
Xiamen rides the wind at intl kite festival
(Chinadaily.com.cn), Updated: 2017-11-03
The 10th Xiamen International Kite Festival will get underway on No 5, with 30 international kites teams taking to the skies to compete against one another to take home top honors.
The teams, consisting of some 100 professional kite fliers, hail from countries such as Indonesia, France, the United Kingdom, Germany and Thailand.
Held on Xiamen's golden beaches, the kite festival is an important part of the Xiamen International Ocean Week, which takes place from Nov 3 to 9.
Shanghai Stunt Kite Team, the longest running kite stunt team in China, will be competing this year. Leader of the team, Gu Lin, has taken part in the Xiamen Kite Festival for the past five years and expects to put on a spectacular show this year.
His team has choreographed a set of ballet moves involving four kites weaving and dancing in the sky in time to music.
The kite festival is sponsored by Xiamen Municipal Bureau of Sports, Xiamen Daily and people's government of Siming district, aimed at integrating the nationwide fitness and Xiamen ocean culture exhibits with stunt kite shows and kite flying.
On the domestic level, stunt kite teams representing Northern and Southern China will compete against one another, complementing the international competition.
A parent-child activity will also be organized, during which parents and children can fly their own kites.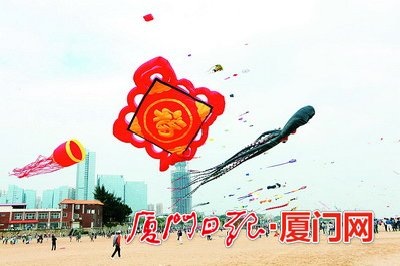 Tens of thousands of kites with Chinese artistic features are flown at the 2016 Xiamen International Kite Festival. [Photo/ xmnn.cn]