You Are Here  :  
Home
 > 
News Center
Overseas Chinese Enterprise Association sets up in Xiamen
(chinadaily.com.cn), Updated: 2017-05-10
The Xiamen Overseas Chinese Enterprise Association was established in Xiamen, Fujian province on March 27.
Yu Zhiqiang, chairman of Winland Group was selected as the association president. Representatives from overseas Chinese merchants associations of other regions including Guangdong, Zhejiang, Jiangsu, and Tianjin attended the inauguration ceremony.
According to Yu, the association aims to build a bridge between overseas Chinese entrepreneurs and government departments. The organization also serves to boost Xiamen's urbanization and economic transformation, carry out the national Belt and Road Initiative, and expand markets in countries along the Belt and Road.
Xiamen, as a notable hometown of overseas Chinese, has attracted more than 2,800 overseas Chinese enterprises, more than half of Xiamen's foreign enterprises in total. The newly-established association is comprised of more than 100 first member companies funded by overseas Chinese as well as Hong Kong and Macao residents.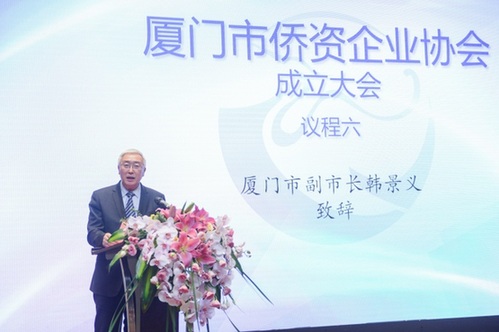 Deputy Mayor of Xiamen Han Jingyi attends the inauguration ceremony of the Xiamen Overseas Chinese Enterprise Association on March 27 in Xiamen, Fujian province. [xmfo.gov.cn]