You Are Here  :  
Home
 > 
News Center
Hungary seeks Guest Country of Honor title at 2016 CIFIT
(chinadaily.com.cn), Updated: 2016-01-26
A Hungarian delegation visited the Xiamen Bureau of Convention and Exhibition Affairs, the organizer of the 2016 China International Fair for Investment & Trade, in Xiamen, a coastal city in Fujian province of southeast China, on Jan 16.
The delegation, led by State Secretary Geza Szocs, was negotiating for a Guest Country of Honor title at the fair, which is scheduled to open in Xiamen in September.
Bureau director Wang Qiongwen introduced the latest news on preparations for the fair, and noted how the Guest Country of Honor title benefited its previous holders. He offered proposals on this year's promotional activities for the title holder.
Szocs, who took part in the 2015 fair, is familiar with the business opportunities the fair can provide. He was impressed by how countries such as Bahrain in the Middle East and Malaysia in Southeast Asia benefited from their Guest Country of Honor titles at previous fair sessions. He expressed the hope that Hungary would hold the title at the 2016 fair to promote economic ties between China and Central and Eastern Europe.
The talks were productive. The two parties agreed to promote bilateral economic cooperation at the fair by introducing Hungary's business environment to Chinese investors.
Hungary-based Morgan Star Group, a consulting agency with a specialty in bilateral trade between China and Hungary, joined the Hungarian delegation.
The group plans to sponsor a Hungarian culture week at the fair to advocate painting, music and other traditional art forms. It will also use its influence to promote the fair among Chinese societies in Central and Eastern Europe.
If the Guest Country of Honor title eventually goes to the country, the fair's organizers will send out invitations to the Hungarian Prime Minister and the Embassy of Hungary in China and arrange for a string of promotional activities for Hungarian enterprises, including a Hungary pavilion at the fair, a forum for China-Hungary economic cooperation and matchmaking events.
If Hungary does become the Guest Country of Honor, a 16+1 mechanism for economic cooperation will be triggered by which the organizer may invite a further 16 countries from Central and Eastern Europe to the fair. A conference for coordinating business promotion agencies of those countries will be arranged.
China and Hungary have been working closely in investment, trade, finance, technology and culture. As the first country to sign a memorandum of understanding with China for cooperation under the Belt and Road Initiative, Hungary has seen Chinese investment grow in the past few years.
According to the delegation, Hungary wishes to cement its cooperation with China through the Guest Country of Honor title and related promotional activities and attract Chinese investment in trade, logistics, infrastructure and more.
Edited by Peter Nordlinger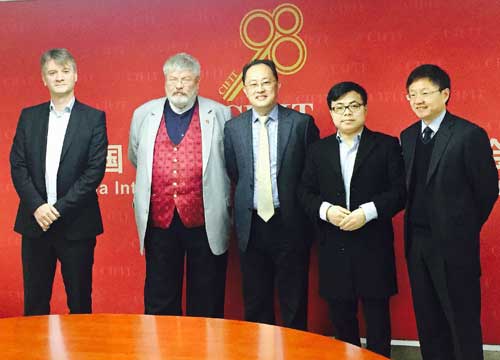 A Hungarian delegation visit the Xiamen Bureau of Convention and Exhibition Affairs, the organizer of the 2016 China International Fair for Investment & Trade, in Xiamen, a coastal city in Fujian province of southeast China, on Jan 16.[Photo from chinafair.org.cn]