Cancer patients now have another treatment option, rather than physically debilitating chemotherapy and radiotherapy.
Molecular-targeted biotherapy has a bright future for the treatment of tumors as the side effects are less pronounced, according to Hao Xishan, president of Tianjin Medical University Cancer Institute and Hospital (TMUCIH) and an academic at the Chinese Academy of Engineering.
Compared with chemotherapy and radiotherapy, which inevitably cause severe damage to the immune system, biotherapy is a promising weapon in the battle against cancer, Hao says.
It can kill cancer cells and at the same time strengthen normal cells.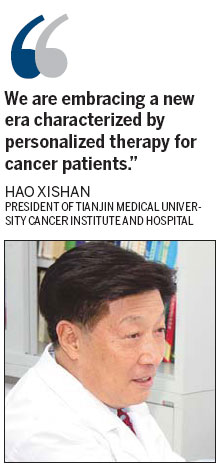 Combining biotherapy with conventional clinical approaches has greatly extended the lives of cancer patients, Hao says.
TMUCIH, one of the country's largest biotherapy centers, has recently inked an agreement with Japan's Takara Bio Inc (Takara) to launch a research project on T-cell receptor (TCR) gene therapy against refractory cancer - for which surgery is ineffective and which is initially unresponsive to chemo- or radiation therapy.
A patient's lymphocytes (a type of white blood cell) are transduced in vitro with the retrovirus vector having the TCR gene, which recognizes the tumor cells. The gene modified lymphocytes are then grown in vitro and reintroduced to patients.
These adapted lymphocytes recognize and attack patients' tumors.
The treatment helps lung cancer, esophageal cancer and malignant melanoma patients.
"This is one of the country's earliest and most important gene therapy projects," Hao says. "We are embracing a new era characterized by personalized therapy for cancer patients."
Critically, more information about the cancer can be gained from the individual gene expression of molecules, instead of just from clinical symptoms and pathological analysis.
Tianjin hospital's biotherapy department has partnered with H. Lee Moffitt Cancer Center & Research Institute in the United States to establish a company analyzing gene information and molecular biological information of tumor tissues.
Hao also reveals that a national information network of biological specimen banks is set to be built during the 12th Five-Year Plan (2011-2015) period. Led by Hao's hospital and several other hospitals, the network will help improve the sharing and analysis of biological resources, and conduct biotherapy.
Cancer has become one of the country's top killers. In Tianjin, for instance, the morbidity of cancer rises at a rate of 2-3 percent each year.
Hao stresses that even though experts and doctors are seeking breakthroughs in treatment, it's crucial for the government to help raise the public's awareness of cancer.
For instance, a standardized guideline for breast cancer screening will be implemented nationwide in the next five years.
This will be of great help in the early diagnosis and early treatment of cancer, Hao says.