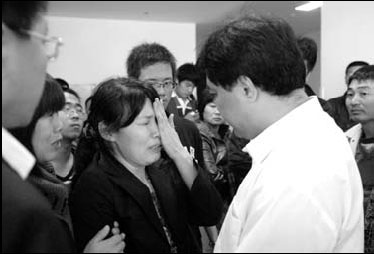 Family members of the passengers injured in Friday's highway crash in Tianjin wait in a local hospital for news on Saturday. The accident killed 35 people and injured 20 others. Zhang Chaoqun / Xinhua
TIANJIN - The casualty total in Friday's traffic accident in this northern municipality has risen to 35 dead and 20 injured, according to a news conference held on Saturday.
Most of the victims are university students.
All of the injured, 11 men and nine women, are receiving treatment in three hospitals in Tianjin's Wuqing district. Six of them are in critical condition while the remaining 14 are stable.
A medical team of more than 20 experts has been sent to the hospitals.
A work team organized by the State Administration of Work Safety and the Ministry of Public Security has also been sent to Tianjin to investigate the accident and deal with the aftermath.
One of the 35 killed - 14 males and 21 females - remains to be identified.
At about 3:50 pm on Friday, a passenger bus with a Hebei license plate collided with a Shandong-licensed minibus that was moving in the same direction on Tianjin section of the Binhai-Baoding highway.
The passenger bus overturned and slid 208 meters before it crashed into the rails on the road.
It was carrying 55 passengers, although its capacity is only for 53.
Officials said the investigation is still under way.
Passengers on the bus were mainly from Hebei United University and Tangshan College in Hebei province, adjacent to Tianjin. They were going back to school after the 7-day national day holiday.
A staff member from Hebei United University told China Daily that the school is seeking a passenger list from the bus company and also trying to trace students who have not come back to campus.
"We are not sure if the bus company has purchased insurance for the passengers on the bus," he added, declining to be named.
A father of a student from Tangshan College told China National Radio that his son, a senior, was on the passenger bus in the accident, and he is still uncertain of his son's situation.
"He was on his way from Baoding (a city in Hebei) to Tangshan College," he said. "He left home with happiness in his face but it turns out to be what we can do now is just wait."
China Daily
(China Daily 10/09/2011 page2)