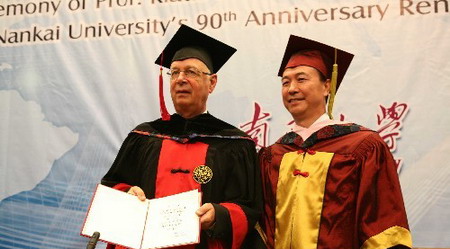 World Economic Forum (WEF) founder Klaus Martin Schwab was awarded an honorary doctorate by Nankai University on Tuesday during his visit to the prestigious university in Tianjin.
German economist Schwab, best known as the executive chairman of the WEF, became the eighth honorary doctor of Nankai University.
"It is a great honor for me to receive the same honorary doctorate with late Chinese mathematician Chern Shing-shen and physicist Wu Dayou," he said.
The economist also delivered a brief speech and discussed issues on the current financial crisis and the recovery of China's economy with students.
Industries, governments and other stakeholders should overcome geological boundaries and barriers between different fields to tackle global challenges together, which is the biggest difference between the current financial crisis and the Great Depression, Schwab pointed out. He also urged business leaders, political policy makers, regulators and consumers to reflect on the problem of greed.
Schwab stopped by Tianjin on his way to the 2009 Summer Davos Forum being held in Dalian from September 10-12.
"I am surprised so many changes have happened in the municipality since I visited here last year," he told officials with Nankai University.
The WEF, commonly known as the Davos Forum, is a Geneva-based independent organization. Its annual meeting held in Davos, Switzerland brings together top business leaders, international political leaders and economists to discuss the most pressing issues facing the world. The Forum also organized the "Annual Meeting of the New Champions", also known as the Summer Davos Forum, in Dalian in 2007 and in Tianjin in 2008.
By Guo Changdong