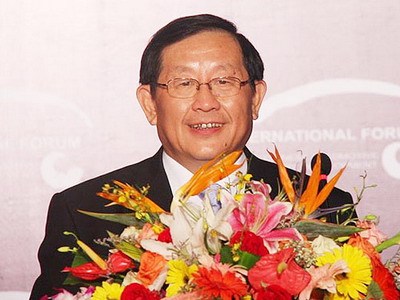 Wan Gang, minister of technology, speaks at the 2009 International Forum on Chinese Automotive Industry Development.
China will invest more to boost research and application of new energy vehicles especially electric vehicles, Wan Gang, minister of technology, said at the 2009 International Forum on Chinese Automotive Industry Development held from Sep 4-6 in Tianjin.
Sustainable development of the auto industry is the common goal of all the country's auto manufacturers and the auto market. The government will work out stricter emission controls and fuel consumption standards to advocate environmentally-friendly vehicle technologies and make sure that the emission control and fuel consumption efficiency of the country's vehicles will be among the best in the world by 2020, he said.
China has the world's largest market for electric vehicles. Experts believe new energy vehicles are one of the best ways to handle an energy shortage and cut carbon emissions, two big challenges for the nation.
Wan also expressed his confidence in China's electric vehicles. The country has mastered the core technologies in developing the vehicles after a decade of effort and is leading in research and application of lithium ion batteries.
Lithium ion batteries' relatively high cost is currently an obstacle to widespread commercialization of electric vehicles.
Tianjin based Lishen Joint Stock Co is China's leading researcher and manufacturer of lithium ion batteries and has been actively taking part in domestic projects such as manufacturing the 50 hybrid power buses used in Tianjin during last year's Beijing Olympic Games.
China is the largest electric vehicle manufacturer in the world. The country has the world's largest reserve of rare earth and second largest reserve of lithium. Both are an indispensible material for producing the vehicles.
Chinese authorities have launched a campaign to promote electric vehicles in ten cities in January this year. By 2012, 600,000 vehicles will go into operation. And the government will keep prioritizing using electric vehicles in the public transport network, he added.
New energy vehicles have been the focus of the world's auto industry in recent years. Auto giants such as General Motors, Ford, Toyota and Volkswagen have eliminated their high fuel consumption products and prioritized research on new energy vehicles.
Governments of developed countries also released their plans to promote electric vehicles. Japan plans to invest annually 200 million dollars into developing batteries for electric vehicles in the next five years and France will invest 400 million euros in the next fours years into research on hybrid power and electric vehicles.
By Guo Changdong