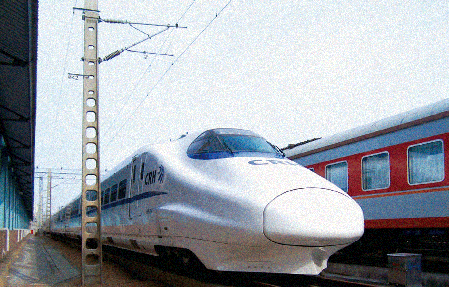 Twenty-nine minutes from Beijing to Tianjin, one hour from Beijing to Shijiazhuang, 4.5 hours from Beijing to Shanghai, about eight hours from Beijing to Guangzhou... in three years, high-speed trains are as fast as airplanes, can save a lot of waiting time, are more convenient and comfortable and with a higher capacity, will be popularized all over China, forming a transport circle with Beijing at its center. This will allow travel between Beijing and most provincial capitals in one to eight hours, and make travel significantly more convenient.
Wang Zhiguo, vice-minister at the Ministry of Railways, said at the recent "Railway Development Achievements in the 60 Years Since the Founding of New China" press conference that by 2012, China will have 13,000 kilometers of passenger railway lines and inter-city railway lines in operation, essentially completing a national high-speed passenger railway network with a "four vertical, four horizontal" structure as its framework, and completing the construction of inter-city railway systems in the Yangtze River Delta, the Pearl River Delta, the Bohai Sea Rim and other regions with densely populated cities.
So far, passenger railway lines with a speed of 250 km per hour, including the Hefei-Nanjing, Hefei-Wuhan, Jinan-Qingdao and Shijiazhuang-Taiyuan lines, have already begun operation.
By the end of 2009, the 350 km per hour Wuhan-Guangzhou and Zhengzhou-Xi'an lines will have been put into service, as well as the 250 km per hour Ningbo-Taizhou-Wenzhou, Wenzhou-Fuzhou and Fuzhou-Xiamen passenger lines.
At present, a batch of passenger railway lines and inter-city railways with speeds ranging between 200 km per hour and 350 km per hour, including the Beijing-Shanghai, Beijing-Shijiazhuang, Harbin-Dalian, Shanghai-Nanjing and Guiyang-Guangzhou lines, are in the process of construction, and workers are striving to put them into service before 2012.
Wang also disclosed that in 2012, the total length of China's operational railways will increase from the current 80,000 kilometers to 110,000 kilometers or more, main railways will achieve the separate transportation of freight and passengers, the developed and improved of the railway network will preliminarily take shape, and rail transport bottleneck problems such as "difficulties in obtaining tickets" will be essentially alleviated.
Editor: Xie Fang
Source: People's Daily Online